Report: Illinois leads Midwest in clean energy jobs
By Dave Fidlin For Chronicle Media —

January 10, 2018
Compared to its Midwest peers, Illinois has more jobs available in the clean energy job sector, according to a recent analysis. Officials across the state have lauded the results.
In late 2017, advocacy organization Environmental Entrepreneurs, or E2, in conjunction with the Clean Energy Trust, analyzed the status of clean energy jobs across a dozen Midwestern states.
Illinois had the most, totaling 119,395. Ohio notched the second highest number, with 105,443 positions in the sector and Michigan was third, with 92,271 jobs on the docket.
Of the other neighboring states, Missouri had 55,251 jobs this past year, Indiana had 47,720 positions and Iowa hosted 30,418 employment opportunities. Wisconsin trailed the immediate region with 26,382 clean energy jobs.
Gov. Bruce Rauner in December touted the job numbers and pointed to his Future Energy Jobs Act as an impetus for the positive data this past year.
"Clean energy in Illinois is booming," Rauner said in an address in early December in Chicago. "Thanks to the Future Energy Jobs Act, we can compete, head-to-head, with any state in the nation to attract clean-energy investment and clean energy jobs."
E2, the Clean Energy Trust and other partnering organizations have compiled data on a granular level, which can be viewed through an interactive map at www.cleanjobsmidwest.com/map/illinois.
According to its analysis, the Central Illinois counties of McLean, Peoria, Tazewell and Woodford hosted 4,500 clean energy jobs this past year, comprising 3.7 percent of the state's overall workforce in the sector.
Cook County, which encompasses Chicago and many of its inner-ring suburbs, leads the pack of counties statewide with 50,500 clean energy jobs on record this past year, or 42.29 percent of the sector's workforce in Illinois.
Micaela Preskill, who works with E2's Midwest advocacy branch, said the state's Future Energy Jobs Act could result in $180 million annually in new investment as such renewable sources and wind and solar continue to grow in popularity.
E2's 119,395-person workforce statistic represents a 4.8-percent increase in clean energy jobs in the past three years. The numbers are expected to continue inching upward.
"Combined with its already robust clean energy economy and Gov. Rauner's commitment to growing jobs across the state, Illinois is well positioned to continue attracting and maintaining the state's growth in clean energy jobs," Preskill said of the statistics.
While the act has oftentimes been credited with spurring job growth in an emerging job sector, advocates say the legislation also could help consumers throughout the lifespan of the legislation, which will last at least a decade.
Erik Birkerts, CEO of the Clean Energy Trust, said the act by design is aimed at trimming energy bills throughout the next decade. Birkerts also expressed optimism in the sector's growth in the years ahead as new technology advances.
"Clean energy jobs are some of the fastest growing jobs in Illinois and the Midwest," Birkerts said in a statement. "We're optimistic that this growth engine can continue unabated as the Midwest continues to prove it is a fertile region for clean energy innovation and deployment."
Speaking to the act itself, Birkerts in his view said it stands to protect some of the most vulnerable populations in the state by offering assistance to low-income residents. One component of the act calls for jobs training for solar infrastructure installation and related jobs.
The push for clean energy in Illinois has been building for more than two decades.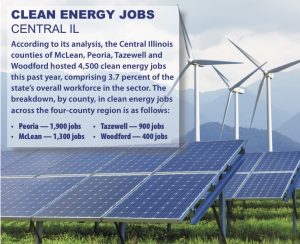 The Illinois Clean Energy Community Foundation was established in December 1999 as an independent foundation with a $225 million endowment provided by Commonwealth Edison.
"Our mission is to improve energy efficiency, advance the development and use of renewable energy resources, and protect natural areas and wildlife habitat in communities all across Illinois," according to the foundation.
Since its formation, the foundation has provided financial support for clean energy investments in Illinois through a variety of programs.
At present, the organization has awarded more than 5,000 grants providing $258 million to Illinois nonprofit organizations, schools, municipalities and other local and state government agencies.  The grants support activities in each of the state's 102 counties.
According to its analysis, the Central Illinois counties of McLean, Peoria, Tazewell and Woodford hosted 4,500 clean energy jobs this past year, comprising 3.7 percent of the state's overall workforce in the sector.
—-  Report: Illinois leads Midwest in clean energy jobs   —–