Experts: Finding perfect holiday tree a matter of style, space
By Tim Alexander for Chronicle Media —

December 2, 2017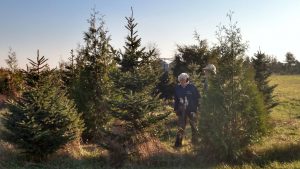 It's a scene straight from a Norman Rockwell print that is repeated every fall and winter: Moms, dads, kids and grandparents bundled for the weather, dad with trusted saw and others with mug of warm beverage in hand, in search of the perfect holiday tree to cut and return to a place near the family hearth.
At seasonal tree farms across the U.S. the timeless scene made its 2017 debut the weekend after Thanksgiving, when fresh and pre-cut trees could be seen secured to the roofs of many vehicles.
But what constitutes the perfect holiday tree, and how do city dwellers and other non-tree farmers — who are incidentally known as arboriculturists or foresters — know what to look for in order to secure the healthiest, longest-performing pine or fir available on a tree farm? According to Ron Wolford, a University of Illinois horticulture educator, purchasing a tree from a tree farm ensures freshness, but consumers should be prepared to pay for perfection. When looking for the freshest tree among the hundreds of stationary or pre-cut trees available on tree farms, the horticulturist recommends searching for the following characteristics:
Trees with a healthy green appearance and few browning needles.
Needles should be flexible to touch and not break off when you run them through your hand.
When cut, very few green needles should drop off the tree when it is dropped on its "butt" end from a few inches off the ground.
Base of tree should appear straight, not crooked, and be long enough to fit into your stand.
"Store your tree in an unheated garage or some other area out of the wind, if you are not putting up the tree right away," said Wolford, who has nostalgic memories of selecting and cutting Christmas trees from his grandparents' Peoria County farm. "Make a fresh, one-inch cut on the butt end and the tree in a bucket of warm water. When you bring the tree indoors, make another fresh one-inch cut and place the tree in a sturdy stand. The water reservoir of the stand should contain one quart of water for every inch of diameter of the trunk."
Chronicle map to Northern Illinois Christmas Tree Farms
Selecting the perfect holiday tree can greatly depend on your housing situation. Wolford advises measuring the height and width you have available to place your tree in your home before shopping. "There is nothing worse than bringing a tree indoors only to find it's too tall," he said. "Take a tape measure with you to the farm."
Peoria County forester Craig Roth, co-owner of Pine Grove Tree Farm near Chillicothe, said personal preferences make a big difference when it comes to selecting the perfect tree. "Many people want to know what types of trees are going to last the longest. Your Fraser firs, white pines and scotch pines will last from Thanksgiving to Christmas without too much trouble," Roth said, on a busy "Black Friday" that saw dozens of families flock to his rural tree farm for its 2017 opening day. "People who buy spruce usually know they don't last as long, so they might buy them closer to Christmas."
Other people are more concerned with a tree's needle softness, Roth continued. "White pines have a really long, soft needle," he said. "The Fraser firs are soft. Scotch pines are a little bit pokey, and blue spruce needles are really pokey. You want to keep your cat out of those."
The after-holiday cleanup associated with purchasing and using a "live" Christmas tree discourages some consumers — especially those in urban areas — from grabbing a saw and heading for the countryside to patronize a tree farm. But tree cleanup and removal, relating to both from a household and to the tree's ultimate destination, should not be a detriment, according to Roth. He says that most cities and municipalities offer Christmas tree recycling programs, and many rural soil and water conservation districts, park districts or other government-funded may do the same. In addition, some farmers and rural dwellers may wish to utilize used holiday trees to establish fish habitat in ponds on their properties.
Consumers may easily remove live trees and shed needles from their homes by spending a few extra dollars for skirting that lies under the tree during its use and cocoons it for removal, Roth said.
To help consumers select the perfect holiday tree, the University of Illinois Extension has established a "Christmas Trees and More" website at extension.illinois.edu/trees/index.cfm.
— Experts: Finding perfect holiday tree a matter of style, space —