Blue Lotus holds candlelight meditation and vigil supporting peace
Adela Crandell Durkee For Chronicle Media —

August 22, 2017
Elvis Presley lyrics — "I'll be so lonely, baby, Well, I'm so lonely, I'll be so lonely, I could die."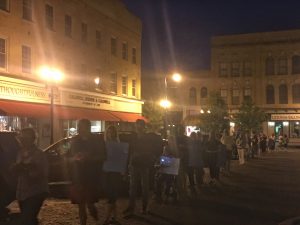 — floated from the gazebo and across Woodstock Square, as a group of approximately 50 people silently filed out of Blue Lotus Temple at 8 p.m. Aug. 15.
Coincidentally, an Elvis impersonation band performed in the Square, the same night Blue Lotus invited the public to join a Candlelight Meditation and Vigil Supporting Peace, Unity, and Lovingkindness.
Although rallies and demonstrations have become commonplace recently, according to Blue Lotus' Facbook page, the vigil was not related to any issues, but only to support Blue Lotus' core beliefs of Unity, Peace, and Lovingkindness. The vigil was designed as a peaceful gathering, unrelated to any issues.
Vigil participants were encouraged to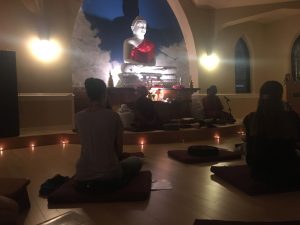 carry signs like "Peace Comes from Within," "No Way Out But In," and "Add More Love."
Kellie Wilson, a Woodstock resident and member of the Blue Lotus board, invited attendees to "Shift and Lift." In other words, to focus on what's right, rather than what's wrong. She believes that "Empowering the good lifts what is right in us."
Office manager Tod Nielson, reminded the community, or Sangha, that every place you are has potential for creating peace."
Blue Lotus Temple is a historical site. It was built in 1866 as a Puritan Worship Center. Breaking with Puritan tradition, the building contains beautiful stain glass windows depicting the Christian faith, including a window depicting Mary in a blue robe holding lilies. According to Patrick Murfin, a member of the Tree of Life Unitarian Universalist Congregation, the windows are more akin to what is found in Catholic churches of the time, than those found in Protestant churches.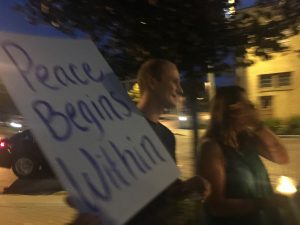 Many Christians practice the Middle Way of Buddhism and attend meditation at Blue Lotus. The presence of the stained glass windows seem familiar to many of them. Contrary to what some people believe, Buddhism is a philosophy, or way of life, rather than a religion. According to the theologian and author, Paul F Knitter, Buddhism can lead to a deeper understanding of the Judeo-Christian faiths. Blue Lotus' mission is to promote individual peace of mind, compassion for all beings, spiritual growth, and an ethical way of life based on Buddhist principles.
According to the Blue Lotus website, "These beautiful stained glass windows are aging. It will cost $25,000 to preserve them properly … Together we can save these beautiful windows, which have been shining the love of Jesus for more than 100 years."
Donations are welcome.
The four monks, one nun, and many volunteers at Blue Lotus Buddhist Temple and Meditation Center, 221 Dean St. Woodstock, serves about 500 active members. Meditation take place four times a week. Other services include healing massage, chanting, Reiki sessions, and yoga. The public is welcome. Find out more about Blue Lotus on their website www.bluelotustemple.org or on Facebook at BlueLotusTemple.
–Blue Lotus holds candlelight meditation and vigil supporting peace–