Governor calls for new investments in education, anti-poverty efforts
By Peter Hancock 
Capitol News Illinois —

February 15, 2023
SPRINGFIELD – Gov. J.B. Pritzker on Wednesday, Feb. 15 laid out a $49.6 billion spending plan for the upcoming fiscal year that calls for significant new spending for early childhood education and efforts to combat homelessness among other areas.
He also claimed credit for putting the state back on more secure financial footing.
Speaking to a joint session of the General Assembly, Pritzker delivered a combined State of the State speech and budget address in the House chamber since his pre-pandemic address in February 2020.
Pritzker's proposed budget appeared to signal a transition to a post-COVID kind of normalcy, with a focus on typical state issues like education, health care and social services as opposed to grappling with a public health disaster and the economic calamity that came with it.
"The last time I stood here seems like a lifetime ago," Pritzker said. "So many fiscal challenges laid ahead. And so much progress has been made."
Pritzker came into office in 2019, succeeding Republican Gov. Bruce Rauner, whose single term was marked by a two-year budget impasse that resulted in a nearly $17 billion backlog of past-due bills and multiple credit downgrades. But with those old bills paid and credit rating agencies now giving the state upgrades, Pritzker appeared to revel in pointing out the contrast.
"In the age-old fight between happy warriors and misery's carnival barkers, we've shown that if we resolve to do it, happy warriors win every time. And we are winning," he said. "Which is why, here in Illinois in 2023, I'm confident in saying the state of our state is stronger than it has been in decades, and we're getting stronger every day."
Early childhood 'Smart Start'
The signature new program in Pritzker's proposed budget is a multi-year plan called "Smart Start" that aims to expand child care services and make preschool available to every 3- and 4-year old in Illinois whose parents or guardians seek it over the next four years.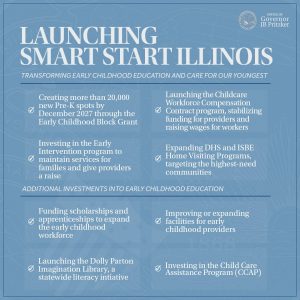 Beginning with a $250 million appropriation in the upcoming fiscal year, Pritzker said his proposal would add 5,000 preschool spots in the upcoming year – the first in a four-year plan to increase those seats by 20,000. That quarter-million-dollar proposal would also stabilize funding for child care services to enable providers to boost workers' salaries, and increase funding for early intervention services and home visits to reach families in need.
"Thanks to our stronger fiscal standing, we can afford to do this," Pritzker said. "And as every provider, teacher, and parent in this state knows, we can't afford to wait."
The plan also calls for spending $100 million from the Rebuild Illinois capital improvements program to build and upgrade child care buildings and facilities, including in areas he called "early childhood deserts," essentially doubling the amount of money originally allocated for that purpose.
"Smart Start Illinois will save taxpayers $7 for every one dollar invested and will vault Illinois to national leadership in early childhood development," he said. "Enhancing quality early care and education is a win-win solution for re-mobilizing parents in the workforce, enhancing brain development and kindergarten readiness, saving taxpayers money, and increasing economic activity now and in the decades ahead."
K-12 education
Pritzker is also proposing a $350 million increase in Evidence Based Funding for K-12 education, which is the minimum year-over-year increase required under the 2017 law that overhauled school finance in Illinois.
Of that money, the first $50 million is used to fund property tax relief grants to districts that apply for them. The other $300 million is distributed primarily to school districts that are furthest away from their funding adequacy target.
That amount is consistent with what the Illinois State Board of Education had requested, but other school advocates, including Advance Illinois and the Center for Tax and Budget Accountability, have urged the state to put in even more money.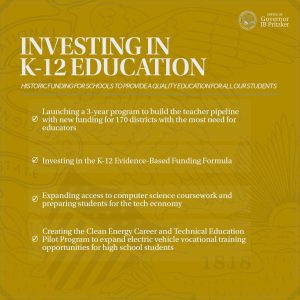 During a House committee hearing Tuesday, Feb. 14, Advance Illinois president Robin Steans said that if the state only adds $350 million a year to the EBF formula, it would take until the year 2038 to reach the law's goal of bringing all districts up to 90 percent of their adequacy target.
"And that is another 15 years, and that is a generation of students who will be in schools who will be in schools that are underfunded, in some cases by significant amounts," she said. "So from our point of view, and we hope and trust from yours, that's too long."
Steans urged lawmakers to raise the minimum annual increase to $550 million — including the $50 million in property tax relief grants — which she said would put the state on track to reach the 90-percent adequacy goal within eight years.
Rep. Will Davis, D-Homewood, who chairs the budget committee that deals with K-12 education, said in an interview after Tuesday's hearing that the final amount that goes into EBF funding will be a subject of negotiation.
"I personally would like to see it more than $550 (million)," he said. "I mean I'd rather us get to full funding quicker rather than later. But it's not a decision that I make in a vacuum by myself. It requires others participating and communicating. So we'll see where we land."
The added spending brings ISBE's total budget to $10.3 billion, or roughly 20.5 percent of all General Revenue Fund spending.
Higher Education
While campaigning for reelection last year, Pritzker talked about wanting to make college education free for people who met certain income guidelines, and on Wednesday he claimed the budget he is proposing would go a long way toward accomplishing that.
Pritzker called for a $100 million increase in funding for Illinois' Monetary Award Program, or MAP grants, the state's needs-based scholarship program.
That would bring the total amount of MAP funding to $701 million, a 75 percent increase compared to the year Pritzker came into office.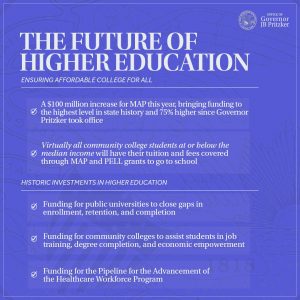 According to the governor's budget office, when combined with the federally-funded Pell Grant program, the increase in MAP funding would allow nearly every community college student and 40 percent of public university students whose household incomes are at or below median income levels to attend college free of tuition and fees.
The plan also calls for a 7 percent increase, or $100 million, in basic operating funds for community colleges and public universities, which he said would be the largest increase in more than two decades.
"This is yet another way for us to make college more affordable," Pritzker said. "After years of decline, we're seeing growth across higher education in Illinois that's well above the national average. This is our moment to take it all to the next level."
The governor's proposed higher education budget also calls for a number of investments geared toward workforce development: $8.3 million for dual credit and noncredit workforce grant programs; $11 million to develop advanced manufacturing, EV technology and data center workforce training programs; $25 million for the Pipeline for the Advancement of Healthcare, or PATH Workforce Program; an additional $2.8 million for the Minority Teacher Scholarship program; and $750,000 to expand English language services.
Homeless services
Pritzker also proposed a $50 million increase in services for people experiencing homelessness, bringing total funding in that area to $350 million, through a program he called "Home Illinois."
Pritzker said it's estimated that over 120,000 people in Illinois experience homelessness annually, including 76,000 children, and that Black people are eight times more likely to experience homelessness than white people.
"But the faces of Illinoisans with no home to go to are not homogenous," he said. "They include single parents with infants and toddlers. Sixth graders trying to complete their homework using toilets as a desk in temporary shared housing and LGBTQ-plus high schoolers who were kicked out of their homes by their parents. Homelessness is not an identity. It's a set of circumstances."
That money would go toward a variety of programs, including prevention services, emergency shelter, short-term rental assistance, development of new permanent supportive housing units, street outreach and employment assistance.
Pritzker's budget proposal also calls for additional spending to combat poverty, including a $50 million increase in Temporary Assistance for Needy Families, or TANF, and $20 million for a new Illinois Grocery initiative to eliminate food deserts by opening and expanding grocery stores in underserved areas.
State of the State
In addition to laying out a budget plan, Pritzker also spoke about social and political issues facing the state and nation, including the overturning of Roe v. Wade and the enactment of anti-abortion legislation in other states, including those that border Illinois.
Restrictions on abortion access in other states have resulted in a sharp increase in demand for abortion services in Illinois, where the procedure remains legal. That prompted Democratic lawmakers to take action during last month's lame duck session, passing an omnibus reproductive health care law aimed at increasing the number of abortion providers in Illinois. But Pritzker said he intends to continue speaking out for abortion rights.
"There are women in this country right now who are facing untold mental and physical anguish because of the fall of Roe v. Wade," he said. "Here in Illinois women know their rights are protected. But that doesn't take away our obligation as Americans to speak up for the rest of the nation and we will keep doing it."
He also commented on other social and political trends in the United States, including a rise in antisemitism, censorship and discrimination against the LGBTQ community.
"There is a virulent strain of nationalism plaguing our nation, led by demagogues who are pushing censorship, with a particular attack right now on school board members and library trustees," he said. "It's an ideological battle by the right wing hiding behind a claim that they would protect our children, but whose real intention is to marginalize people and ideas they don't like."
He said addressing such matters "doesn't stop with just snuffing out ideas."
"This afternoon, I've laid out a budget agenda that does everything possible to invest in the education of our children," he said. "Yet it's all meaningless if we become a nation that bans books from school libraries about racism suffered by Roberto Clemente and Hank Aaron, and tells kids that they can't talk about being gay."
phancock@capitolnewsillinois.com
Pritzker lays out big plans while citing strong fiscal picture