How They Voted: Illinois Representatives' Votes in Congress
Chronicle Media —

June 29, 2015
United States House of Representatives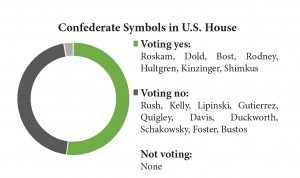 Confederate Symbols in U.S. House: The House on June 25 voted, 240 for and 184 against, to send to committee a motion (H Res 341) that seeks to remove state flags with Confederate symbols from House areas of the United States Capitol complex and donate them to the Library of Congress. All Republicans who voted except Curt Clawson of Florida supported the referral to committee, while all Democrats who voted opposed the referral. Clawson joined Democrats in voting no.
Majority Leader Kevin McCarthy, R-Calif., said: "I am a big believer in the committee process to discuss all issues that come before the floor, especially one of this importance. I think this resolution should be referred to the Committee on House Administration to give other members an opportunity to weigh in."
Bennie Thompson, D-Miss., who sponsored the motion and sought an immediate vote on it, said of the Confederate flag: "I take it personally. I have had churches burned in my district. I have had men and women killed for trying to do the right thing; yet, when I see people trying to defend that way of life which that flag represents, this is not who we are as an institution."
A yes vote was to send the measure to committee rather than vote on it immediately.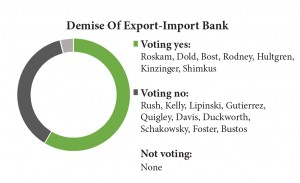 Demise Of Export-Import Bank: Voting 243 for and 181 against, the House on June 24 blocked a procedural bid by Democrats (H Res 341) to force a vote on a bill reauthorizing the Export-Import Bank. The bank, which will lose its congressional charter to operate after June 30, appears headed toward closure after 81 years in business. Democrats turned to this procedural tactic after the House GOP leadership refused to bring to the floor a bill with 190 sponsors to keep the bank in operation. Supporters say the bank is a job-creator, while critics see it as corporate welfare.
An independent agency backed by taxpayers, the so-called Ex-Im Bank provides loans and guarantees to help U.S. companies make sales in politically or economically risky markets abroad. The rationale is that without this support, U.S. firms would lose sales to foreign companies subsidized by their governments. By law, the bank cannot compete with private-sector lenders. Fewer than 2 percent of its transactions have defaulted in recent years, and the bank usually returns a profit to the Treasury even with an exposure of $100 billion-plus in taxpayer liability.
Michael Burgess, R-Texas, said the House should "get on to the business at hand," which concerned funding the Department of the Interior and Environmental Protection Agency.
Jared Polis, D-Colo., said the House should "reauthorize the Export-Import Bank, protect over 130,000 American jobs, help American small businesses compete in an increasingly global economy and grow our export-related economy…."
A yes vote was to block a move for a direct vote on preserving the Export-Import Bank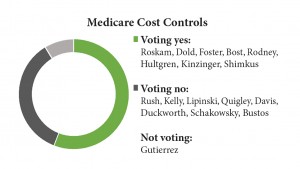 Medicare Cost Controls: The House on June 23 voted, 244 for and 154 against, to abolish a panel of 15 outside health experts created by the Affordable Care Act to help control Medicare costs. The GOP-drafted bill (HR 1190) would eliminate but not replace the Independent Payment Advisory Board, which is yet to be assembled. The IPAB, on an annual basis, will have power to propose cuts in payments to Medicare providers to keep per-capita Medicare costs from exceeding official projections, with Congress needing supermajority votes to override its recommendations. The IPAB is barred from actions that would ration care, change Medicare co-payment or deductible levels or raise premiums levels. This bill would be paid for by $7.1 billion in cuts through 2025 in the ACA fund for preventative medicine and public health.
Michael Burgess, R-Texas, said: "Repealing the (board) would protect seniors' access to Medicare, encourage us to do real Medicare reforms…."
Jared Polis, D-Colo., said "the Affordable Care Act is working. Instead of continuing in that vein, once again the Republican Congress is seeking to repeal various parts of that law…."
A yes vote was to send the bill to the Senate.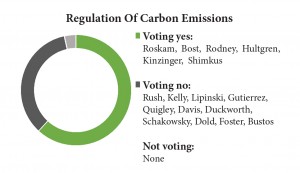 Regulation Of Carbon Emissions: Voting 247 for and 180 against, the House on June 24 passed a GOP-drafted bill (HR 2042) that would sidetrack or effectively kill a proposed Environmental Protection Agency rule to limit carbon emissions by natural gas- and coal-fired power plants. The bill targets the EPA's so-called Clean Power Plan, now in draft form, which would allow each state to develop its own means of complying with federally set limits on carbon discharges from plants that generate electricity. These emissions make up about one-third of greenhouse-gas discharges in the U.S and are the nation's largest source of carbon pollution, according to the EPA. Under the bill, the proposed rule could not take effect until all court challenges have been resolved, and governors could exempt their state by certifying that the new limits would significantly increase utility bills or disrupt the electrical grid.
Barry Loudermilk, R-Ga., said: "This commonsense piece of legislation would help to bring the U.S. environmental policy back into the real world and allow us to remain economically competitive."
Frank Pallone, D-N.J., said the bill "undermines the cornerstone of the administration's plan to tackle unchecked climate change" and would receive a presidential veto.
A yes vote was to send the bill to the Senate.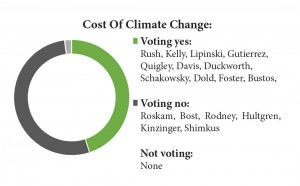 Cost Of Climate Change: Voting 182 for and 243 against, the House on June 24 defeated a Democratic bid to make proposed new limits on carbon emissions binding on states unless they certify that the resulting cost to utility ratepayers would be higher than storm cleanup costs linked to climate change. The amendment was offered to HR 2042 (above). It sought to replace wording in the bill that allows a state to opt out of emission limits if its governor certifies that compliance would raise ratepayers' costs or weaken the electrical grid.
Bobby Rush, D-Ill., said: "This is also a moral issue. Just last week, in a landmark encyclical, Pope Francis himself warned of the grave implications of climate change…."
Ed Whitfield, R-Ky., said: "America is addressing climate change….We have 61 government programs involved. We have 18 federal agencies involved. We spent a total of $77 billion since 2008."
A yes vote was to defeat an amendment requiring costs of limiting carbon emissions to be balanced against cleanup costs associated with climate change.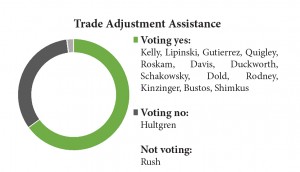 Trade Adjustment Assistance: The House on June 25 passed, 286 for and 138 against, a bill (HR 1295) to authorize $1.94 billion through fiscal 2020 in Trade Adjustment Assistance, a program that provides retraining and temporary financial aid for workers dislocated by free-trade agreements. The bill also renews a trade agreement with countries in sub-Saharan Africa as well as trade preferences for developing nations such as Haiti. This was the last of several congressional votes since mid-May setting the stage for later debates on the proposed Trans-Pacific Partnership trade agreement.
Gerald Connolly, D-Va., said the bill enables workers "who will be displaced from globalization and…trade (to) get some training, get some help. That is what this program has done."
Bill Pascrell, D-N.J., told supporters: "You got your pound of flesh. At a time when trade is expanding, this bill slashes funding for worker training by 20 percent."
A yes vote was to send the bill to President Obama.
United States Senate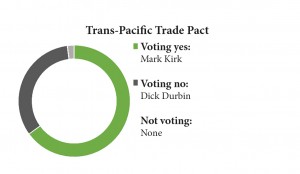 Trans-Pacific Trade Pact: Voting 60 for and 38 against, the Senate on June 24 gave final congressional approval to a bill (HR 2146) that over the next six years would enable trade agreements such as the 12-nation Trans-Pacific Partnership to move through Congress without amendments or filibusters. While giving President Obama fast-track Trade Promotion Authority for shepherding the TPP into law, the bill allows the public 60 days to review the final wording of the deal and Congress 30 additional days to vote it up or down.
Majority Leader Mitch McConnell, R-Ky., said the agreement would put America "back in the trade business," reassuring allies wary of Chinese commercial and military expansion "that we intend to still be deeply involved in the Pacific."
Bernie Sanders, I-Vt., said "virtually every major corporation" supports the agreement, "the vast majority of whom have outsourced millions of jobs to low-wage countries all over the world…."
A yes vote approved fast-track rules for debating the Trans-Pacific Partnership when it arrives on Capitol Hill.
Illinois Representatives' Votes in Congress