How They Voted: Illinois Congressional votes
July 10, 2016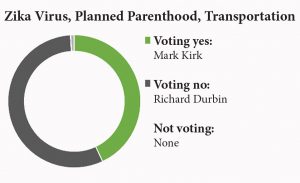 Zika Virus, Planned Parenthood, Transportation: By a vote of 52 for and 48 against, the Senate on June 28 failed to reach 60 votes needed to end Democratic delay and advance a bill (HR 2577) that would fund fiscal 2017 budgets for transportation, veterans, military construction, housing and other programs. The bill provides $1.1 billion for combating the mosquito-borne Zika virus as it reaches the U.S. from points south. Democrats based their filibuster, in part, on language in the bill that would cut spending for other healthcare programs, ease Clean Water Act regulation of pesticides and ban Planned Parenthood funding of Zika-related reproductive care. When contracted by pregnant women, the virus can cause microcephaly, a birth defect in which the baby's head is smaller than expected.
Majority Leader Mitch McConnell, R-Ky., said Democrats were "playing political games as this public health crisis mounts here in our country. Pregnant women all across America are looking at this with utter dismay…."
Minority Leader Harry Reid, D-Nev., said: "We are dealing here with pregnant women and women who want some type of birth control. The Republican conference report restricts funding for birth control provided by Planned Parenthood."
A yes vote was to advance the conference report on a wide-ranging 2017 appropriations bill.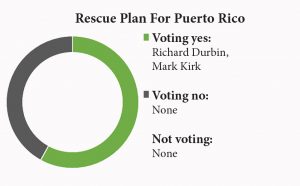 Rescue Plan For Puerto Rico: Voting 68 for and 30 against, the Senate on June 29 gave final congressional approval to a bill (HR 5278) establishing a federal control board to help Puerto Rico restructure more than $70 billion in debt to bondholders and address its deeply unfunded pension obligations. For a limited time, the Financial Oversight and Management Board would have final say over tax, spending and other budgetary policies for the U.S. territory of 3.5 million Americans. Republicans in Congress would select four of the board's seven members and Democrats three. The bill prohibits using federal taxpayer dollars in the reorganization. Puerto Rico faced a $2 billion payment to creditors on July 1.
In part, the bill empowers Puerto Rico to impose settlements on holdout creditors; bars most creditor lawsuits; authorizes a lower minimum wage for new workers under 25; allows the dismissal public employees despite civil service protections and enables the control board to require a balanced Puerto Rican budget.
Bill Nelson, D-Fla., said: "We have to come to the aid of our fellow American citizens. Let's remember that when it comes to time of war, Puerto Rico provides some of the bravest military people we have."
Robert Menendez, D-N.J., said the bill would "disenfranchise 3.5 million Americans (and) authorize an unelected, unchecked and all-powerful control board to determine Puerto Rico's destiny for a generation or more. "
A yes vote was to send the bill to President Obama.
–How They Voted: Illinois Congressional votes  —