No relief in sight as drought conditions worsen
By Andrew Adams Capitol News Illinois —

June 20, 2023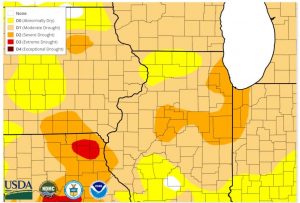 The National Weather Service has officially designated many areas of northern Illinois and northwest and Indiana as being in a severe drought status.
The region has received "significantly" below average rainfall since very early this spring, according to the NWS.
The most significant rainfall deficits over the last 30 days were located near the Chicago metro area, including Cook, DuPage, Will, and Lake (IL) counties.
Midway Airport in Chicago has recorded just 2.72 inches of precipitation since April 1, which is 7.1 inches below the 30-year average and the second lowest since the early 1900s, according to the NWS. That is just one example of similar rainfall deficits that have been recorded across much of northeast Illinois and far northwest Indiana.
Drought conditions continue to deteriorate across the area and other regions of the state — Central Illinois — are facing similar problems.
Moderate drought conditions cover corridors from west central Illinois through northern Indiana outside of the severe drought area.
Groundwater and soil moisture remain below average, according to NWS. Without additional rainfall, soil moisture and groundwater levels will remain at low levels and there is no substantial relief on the horizon. Dry and warm days continue to be the norm.
There are only very limited chances for rainfall over at least the next week, with amounts across the greater Midwest region generally forecast to be less than 0.5 inches, the NWS reports.
Volunteer observers across northeast Illinois indicate lower than typical water levels in ponds and streams and the ground is cracking in many areas.
The severe drought conditions have caused lawns to go dormant and put stress on trees and
shrubs.
The dryness is so extreme the NWS tweeted that in "the last 60 days our office has issued FEWER Flash Flood Warnings (2 vs 10) and MORE Dust Storm Warnings (2 vs zero) than #NWSVegas."
Illinois State Water Survey is reporting some impacts to agriculture, including reduced growth rate and soil moisture, groundwater, and surface water levels remain below normal.