How They Voted. Illinois Representatives' Votes in Congress
Chronicle Media —

September 16, 2017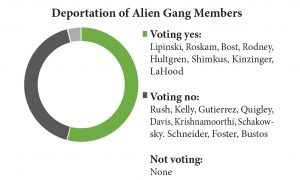 Deportation of Alien Gang Members: Voting 233 for and 175 against, the House on Sept. 14 passed a bill (HR 3697) that would empower federal immigration officials to deport aliens who belong to alien criminal gangs such as MS 13 or participate in gang activities. Burden of proof would lie with Immigration and Customs Enforcement (ICE), and aliens ordered deported would retain rights of appeal in U.S. courts. The bill goes beyond present law, which requires aliens to be convicted of a deportable offense before they can be sent back home. The bill defines criminal gangs in a way that critics said is so broad that it would violate constitutional rights, potentially ensnaring church groups that shelter undocumented immigrants.
Raul Labrador, R-Idaho, said: "The question is often asked, why should law-abiding Americans have to wait until after a criminal gang member has committed a deportable offense?…The answer is that current immigration law contains dangerous loopholes that alien gang members are exploiting."
Don Beyer, D-Va., said the bill would "promote widespread racial profiling and violate First Amendment protections. It will expand mandatory detention of immigrants and raise serious constitutional questions…and bar humanitarian relief for individuals in violation of international treaties."
A yes vote was to send the bill to the Senate.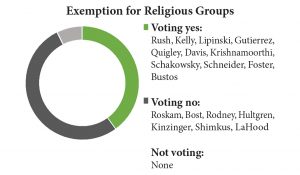 Exemption For Religious Groups: Voting 184 for and 220 against, the House on Sept. 14 defeated a bid by Democrats to exempt members of religious organizations and groups whose primary purpose is humanitarian from criminal-gang deportation proceedings under HR 3697 (above).
Don Beyer, D-Va., said: "It's not accidental that the Catholic bishops and nuns have written to oppose this bill. The harboring provisions are so sweeping that religious organizations that provide shelter, transportation or support to undocumented immigrants could be found liable of criminal activity."
Barbara Comstock, R-Va., said: "Make no mistake, regular immigration proceedings will still apply….The government must prove its case and provide evidence to convince an immigration judge. This bill preserves all due process and appellate rights afforded to any alien facing deportation."
A yes vote backed the exemption.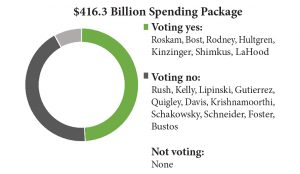 $416.3 Billion Spending Package: Voting 211 for and 198 against, the House on Sept. 14 approved a package including eight of the 12 appropriations bills that would fund federal departments and agencies in fiscal 2018. The $416.3 billion measure (HR 3354) was then merged with the four previously passed appropriations bills for the budget year starting Oct. 1. The overall package would provide $1.13 trillion in discretionary spending for 2018, about half of which would be non-emergency military spending. The full House has yet to debate a congressional budget resolution for 2018 and later years. But its Budget Committee projects total federal spending of $4.02 trillion for 2018, a figure that includes outlays for entitlement programs such as Medicare, Social Security, Medicaid and veterans' benefits.
Tom Cole, R-Okla., said the "fiscally responsible bill" would provide adequate funding "to enforce immigration laws and combat illegal immigration," including $1.6 billion "for physical barrier construction on the southern border, thus fulfilling one of President Trump's key promises."
Maxine Waters, D-Calif., said the bill's financial deregulation measures "would return our economy to the reckless practices that caused the financial crisis. One provision takes away the authority of the Consumer Financial Protection Bureau to stop abusive practices by banks like Wells Fargo, which ripped off more than 3.5 million of its customers…."
A yes vote was to send the bill to the Senate.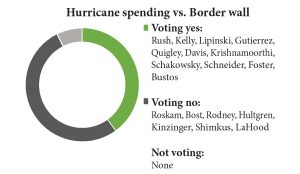 Hurricane spending vs. Border wall: Voting 186 for and 223 against, the House on Sept. 14 defeated a Democratic-sponsored bid to increase pre-disaster spending in HR 3354 (above) by $2.4 billion and cut the same amount from accounts that would fund President Trump's proposed wall on the southern border and provide Immigration and Customs Enforcement (ICE) with 10,000 more detention beds. The Federal Emergency Management Agency (FEMA) would allocate the $2.4 billion to programs aimed at preventing and restoring power outages and mitigating other types of future hurricane damage.
Sheila Jackson Lee, D-Texas, said the motion would "ensure we spend less on raids and roundups and more on rescue. We certainly do not need to spend $1.6 billion on a wall to stem the horde of bad hombres streaming across our southern border that exists only in the imagination or paranoia."
Rodney Frelinghuysen, R-N.J., did not comment directly on the motion but said the GOP-written spending package "makes sure Americans have access to federal services that they rely on, encourages our economy to grow and thrive and keeps our country safe."
A yes vote was to transfer funding from the proposed border wall to Federal Emergency Management Agency (FEMA) storm-mitigation accounts.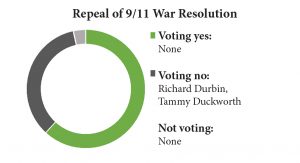 Repeal of 9/11 War Resolution: Voting 61 for and 36 against, the Senate on Sept. 13 tabled (killed) an amendment to the 2018 military budget (HR 2810) that sought to repeal the Authorization for Use of Military Force (AUMF) enacted in September 2001 and the Iraq war resolution enacted in October 2002. Those measures have provided the legal basis of U.S. military actions in Afghanistan, the Middle East and Africa since 9/11. The amendment would give Congress six months to enact an updated authority that reflects the views of lawmakers now in office and gives them more responsibility for combat operations. Backers said that during the six-month interval, the president would have constitutional authority to act quickly to protect national security. But opponents said that repealing but not immediately replacing existing war authorities would undercut troops and allies and increase U.S. exposure to terrorist attacks. The underlying bill remained in debate.
Jack Reed, D-R.I., said "we must replace" the earlier measures but only when an updated authorization is ready for enactment. To do so sooner would generate "uncertainty, doubt and confusion" to the detriment of American security.
Rand Paul, R-Ky., said: "I hope (senators) will finally vote to do their constitutional duty and oversee and/or discontinue the many wars we are in….Come down to the floor and vote for it….It is the least we can do to honor the service of our brave young soldiers."
A yes vote was to kill the amendment and retain existing war authorities.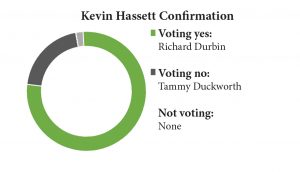 Kevin Hassett Confirmation: Voting 81 for and 16 against, the Senate on Sept. 12 confirmed Kevin Hassett as chairman of the Council of Economic Advisers, which provides presidents with economic advice based on empirical research. Hassett had been a resident scholar since 1997 at the conservative American Enterprise Institute and advised the presidential campaigns of George W. Bush and John McCain. The nominee drew Democratic criticism over his advocacy of economic deregulation.
Michael Crapo, R-Idaho, said Hassett's "counsel, insight and expertise will be invaluable as the administration addresses initiatives like tax reform, which undoubtedly will have a large impact on the macro economy."
Elizabeth Warren, D-Mass., said Hassett "will be one more voice in the White House speaking up for the rich and the powerful. No doubt he will fit right into the Goldman Sachs administration."
A yes vote was to confirm Hassett.