How They Voted. Illinois Representatives' Votes in Congress
Chronicle Media —

September 18, 2016
UNITED STATES HOUSE OF REPRESENTATIVES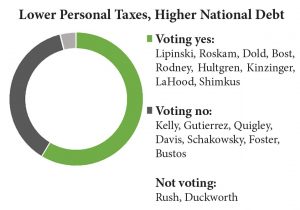 Lower Personal Taxes, Higher National Debt: Voting 261 for and 147 against, the House on Sept. 13 passed a Republican-sponsored bill (HR 3590) that would increase the share of personal income that can be deducted for unreimbursed medical expenses. This tax cut for filers who itemize deductions would add a projected $32.7 billion to the national debt over 10 years because it is not offset by spending cuts or revenue increases. Specifically, the bill would lower from 10 percent to 7.5 percent (of adjusted gross income) the threshold above which taxpayers are allowed to deduct medical expenses not covered by insurance. At present, the 7.5 percent break point is available only to taxpayers 65 and older. Without this bill or a similar remedy, the threshold for seniors who itemize deductions will rise to 10 percent starting in 2017. Non-seniors who itemize deductions already are subject to the 10 percent threshold.
Michael Burgess, R-Texas, alluded to the Affordable Care Act and said: "In today's climate of ever-increasing healthcare costs, we must do whatever we can to provide relief to taxpayers and…promote a return to consumer-driven health care."
Jared Polis, D-Colo., said: "Look how cavalier this body is about adding $33 billion to the deficit….In one day, we are adding $33 billion to the deficit while not addressing critical issues with Zika and Flint."
A yes vote was to send the bill to the Senate, where it was dead on arrival.
Ban On Guantanamo Bay Transfers: Voting 244 for and 174 against, the House on Sept. 15 passed a bill (HR 5351) that would prohibit the administration from transferring detainees at the Guantanamo Bay, Cuba, military prison to foreign countries or incarceration in the United States. Guantanamo now has 61 prisoners, down from about 800 during the George W. Bush administration and 240 when President Obama took office in 2009. The administration seeks to transfer 20 individuals who have never been charged with crimes and are considered acceptable security risks. Between 20-30 percent of Guantanamo detainees released by the Bush administration and 6 percent released by the Obama administration later joined hostile forces, it was stated in floor debate.
Jackie Walorski, R-Ind., said "the individuals remaining at `Gitmo' today represent truly the worst of the worst of the post-9/11 era. These are hardened terrorists."
Jerrold Nadler, D-N.Y., said the bill "finds all the inmates at Guantanamo guilty of something unspecified, without trial, and sentences them to life without parole. … Since when is it OK for members of Congress to put people in jail and keep them there who are not guilty of anything?"
A yes vote was to send the bill to the Senate, where it appeared certain to fail.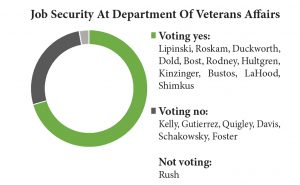 Job Security At Department Of Veterans Affairs: Voting 310 for and 116 against, the House on Sept. 14 passed a GOP-sponsored bill (HR 5620) that would reduce civil-service job protections at the Department of Veterans Affairs in order to make it easier for the agency to fire or discipline poorly performing employees. In part, the bill would require the Merit Systems Protection Board to adjudicate appeals from targeted employees within 60 days; restrict the ability of these employees to pursue appeals in federal court; limit the ability of senior executives to appeal disciplinary actions within the department and give more protection to whistleblowers who call out supervisors.
Jeff Miller, R-Fla., said that while "the vast majority" of department employees are "hardworking public servants who are dedicated to providing quality health care…we still see far too many instances of VA employees not living up to the standards that America expects."
Mark Takano, D-Calif., said "VA employees, nearly a third of whom are veterans themselves, have constitutional rights" that the bill disregards. "In fact, passing this bill will move us further away from a strong accountability system that will improve the quality of service VA provides to veterans."
A yes vote was to send the bill to the Senate, where it was likely to fail.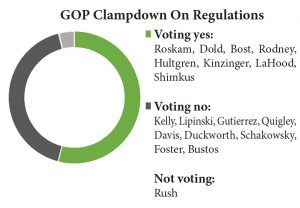 GOP Clampdown On Regulations: The House on Sept. 14 passed, 250-171, a Republican-sponsored bill (HR 5226) that would impose additional reporting and disclosure requirements on federal agencies when they seek public comments on proposed new regulations. In part, agencies would have to publish on their web sites the contents of their substantive verbal, written and electronic communications with interested parties, including sensitive internal discussions not now shared with the public. The bill would affect the several thousand new regulations agencies put into effect each year to implement the broadly worded laws passed by Congress.
Tim Walberg, R-Mich., said the bill "will have an important and positive impact on the public's participation in the regulatory process."
William Lacy Clay, D-Mo.,  called the bill "another attempt by House Republicans to attack agency rulemakings with which they disagree."
A yes vote was to send the bill to the Senate, where it faced oblivion.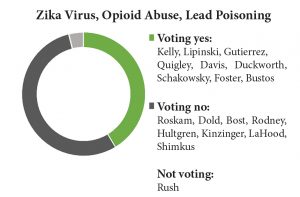 Zika Virus, Opioid Abuse, Lead Poisoning: Voting 185 for and 238 against, the House on Sept. 14 defeated a Democratic attempt to exclude from a GOP clampdown on federal regulations (HR 5226, above) "any public communication to combat a public health crisis including the Zika virus, opioid abuse and lead poisoning."
Sponsor Daniel Kildee, D-Mich., said his measure "would allow agencies to provide critical information…to combat public health crises…like the lead poisoning that has been experienced in my hometown of Flint."
Tim Walberg, R-Mich., said: "Nothing in this legislation precludes an agency from communicating on these issues, whether it be lead poisoning in the water, Zika or opioid abuse."
A yes vote was to adopt the motion.
UNITED STATES SENATE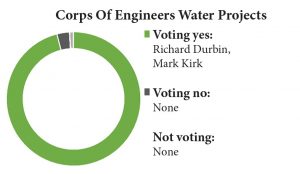 Corps Of Engineers Water Projects: Voting 95 for and three against, the Senate on Sept. 15 passed a bill (S 2848) that would authorize $10.6 billion over 10 years for hundreds of U.S. Army Corps of Engineers projects for purposes such as flood control, shoreline protection, river navigation, harbor dredging, lock and dam maintenance and environmental restoration. The bill includes $100 million in emergency grants and loans to help communities such as Flint, Mich., deal with lead-poisoned drinking water and $700 million to help municipalities replace crumbling drinking-water infrastructure.
Barbara Boxer, D-Calif., said the bill "will invest in our nation's water infrastructure, create jobs in the construction industry, protect our people from flooding, enable commerce to move through our ports, encourage innovative financing and begin the hard work of preparing for and responding to extreme weather."
No senator spoke against the bill.
A yes vote was to pass the bill.
— How They Voted.  Illinois Representatives' Votes in Congress —