How They Voted. Illinois Representatives' Votes in Congress
Chronicle Media —

February 11, 2017
Report for week ending February 12, 2017.
UNITED STATES HOUSE OF REPRESENTATIVES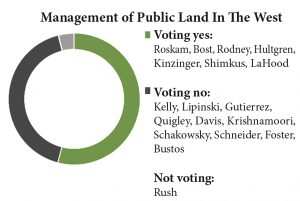 Management of Public Land In The West: Voting 234 for and 186 against, the House on Feb. 7 nullified a new rule that would update Bureau of Land Management steps for obtaining science-based information and public comments in its management of 245 million publicly owned acres in western states. The BLM said the "Planning 2.0" rule would help it balance competing uses such as ranching, recreation, conservation, drilling, mining, military activity and economic development. But critics said the rule would tighten a BLM "land grab" of vast expanses, harming local economies, imperiling private property rights and restricting grazing, logging and drilling access. Two years in the making and the subject of more than 3,000 public comments, the rule would update BLM procedures in place since the 1980s.
Liz Cheney, R-Wyo., said the rule "takes authority away from those who know best what we need to do to manage and sustain our resources, and it puts it in the hands of the federal government and bureaucrats…."
Raul Grijalva, D-Ariz., said: "Our constituents are sick of seeing corporate interests, especially big polluters, come first. They do not want their national parks and cherished natural places turned over to industrial polluters."
A yes vote was to send the measure (HJ Res 44) to the Senate.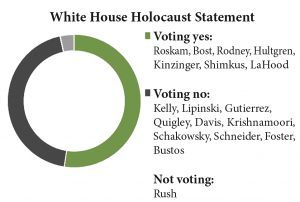 White House Holocaust Statement: Voting 234 for and 187 against, the House on Feb. 7 blocked a move by Democrats to force floor debate on a resolution affirming that the Holocaust occurred and that it targeted Jews. Democrats raised this issue after the White House's International Holocaust Remembrance Day statement, released Jan. 27, omitted mention of the Jewish people, six million of whom died in the Holocaust, which was carried out by German leader Adolf Hitler and his Nazi regime between 1933-1945. Had Democrats prevailed on this vote during debate on the unrelated H Res 91, they would have had an opportunity to bring the Holocaust measure to the floor. Republicans said education and land measures rather than the Holocaust were the business at hand.
Bradley Byrne, R-Ala., said: "…I take no back seat to anybody in standing up for the Jewish people, as I and many other people in this body have done, but we are here today to talk about two education bills and a third bill dealing with the Bureau of Land Management."
Joseph Crowley, D-N.Y., called the White House's omission "deeply troubling because the United States has, until now, been at the forefront of the fight against efforts that would deny the extent of Jewish suffering and death during the Holocaust. And…there are still many deniers of the Holocaust who traffic in conspiracy and claim the whole thing never happened."
A yes vote was to quash a Democratic attempt to bring up a Holocaust resolution.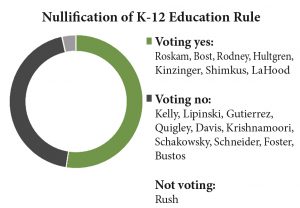 Nullification of K-12 Education Rule: Voting 234 for and 190 against, the House on Feb. 7 rescinded a new rule that would give states and localities requirements for carrying out the Every Student Succeeds Act. That is the main federal law for K-12 education, having replaced the No Child Left Behind Act. Foes called the rule a federal overreach, while defenders said it protects against discrimination, including in the allocation of resources and treatment of "historically marginalized" students.
Drew Ferguson, R-Ga., said killing the rule "ensures that the federal government will…give the power back to the local authorities to make good, solid education decisions."
Jared Polis, D-Colo., said nullification would "destroy the civil rights safeguards that Republicans and Democrats worked so diligently to put in place in the Every Student Succeeds Act."
A yes vote was to send the measure (HJ Res 57) to the Senate.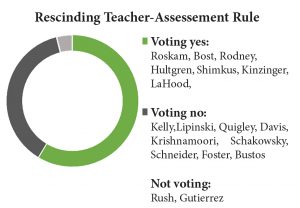 Rescinding Teacher-Assessement Rule: Voting 240 for and 181 against, the House on Feb. 7 nullified a new rule that would upgrade federally set standards for teacher training on the state and local levels. In part, the rule requires measurements based on learning performance, employment outcomes and employer surveys, with federal funding used to leverage compliance. Critics say the rule would infringe on state and local education prerogatives.
Brett Guthrie, R-Ky., said nullification was in order because "the federal government has played too large a role in education for far too long."
Adriano Espaillat, D-N.Y., said: "The Trump administration has already made clear its lack of regard for public education by picking an unqualified nominee (as education secretary), and congressional Republicans are falling right in line by (nullifying) rules to improve teacher preparedness."
A yes vote was send the measure (HJ Res 58) to the Senate.
UNITED STATES SENATE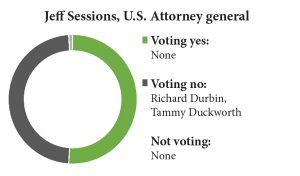 Jeff Sessions, U.S. Attorney general: Voting 52 for and 47 against, the Senate on Feb. 8 confirmed Jeff Sessions, a four-term senator from Alabama, as the 84th U.S. attorney general. Sessions, 70, formerly was his state's attorney general and U.S. attorney for the Southern District of Alabama. President Ronald Reagan appointed him in 1986 as a federal judge for the same district, but the Judiciary Committee rejected his nomination over his record and comments on race and civil rights.
Mike Enzi, R-Wyo., said Sessions' record over a lengthy federal career "speaks highly of his understanding of the Constitution, of his respect for the law and of his reverence for the values that we as Americans hold dear."
Eizabeth Warren,, D-Mass., said: "To put Senator Sessions in charge of the Department of Justice is an insult to African Americans…a direct threat to immigrants…a deliberate affront to every LGBTQ person…an affront to women."
A yes vote was to confirm Sessions.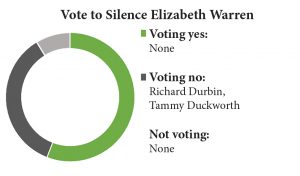 Vote To Silence Elizabeth Warren: Voting 49 for and 43 against, the Senate on Feb. 7 upheld the ruling of the chair that Sen. Elizabeth Warren, D-Mass., had "impugned the motives and conduct" of Sen. Jeff Sessions, R-Ala., and therefore was required to "take her seat" and be silent for the remainder of the debate over his nomination as U.S. attorney general.
Majority Leader Mitch McConnell, R-Ky., invoked Rule 19 against Warren based on her reading of a letter that Coretta Scott King write to the Judiciary Committee in 1986 in opposition to Sessions' nomination to a federal judgeship. King wrote (and Warren read) that Sessions, while a U.S. attorney, had "used the awesome power of his office to chill the free exercise of the vote by Black citizens."
McConnell said after the vote: "Here is what transpired. Senator Warren was giving a lengthy speech. She had appeared to violate the rule. She was warned. She was given an explanation. Nevertheless, she persisted."
Kamala Harris, D-Calif., replied to McConnell: "The suggestion that reciting the words of the great Coretta Scott King would invoke Rule 19 and force Senator Warren to sit down and be silent is outrageous."
A yes vote was to silence Warren in debate over the Sessions nomination.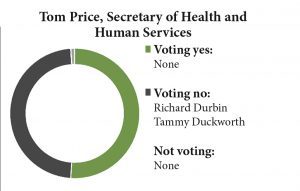 Tom Price, Secretary of Health and Human Services: Voting 52 for and 47 against, the Senate on Feb. 10 confirmed Tom Price, 62, a seven-term GOP congressman from Georgia, as secretary of health and human services. Price drew criticism because of apparent overlap between healthcare legislation he sponsored or voted for and health stocks in his portfolio. Price said there was no ethical misconduct or illegality because the purchases were made by his broker without his knowledge. Price, a physician, is the 23rd secretary of his department, which was originally named the Department of Health, Education and Welfare.
Majority Leader Mitch McConnell, R-Ky., said Price "can start bringing stability to the healthcare markets Obamacare has harmed. He can start bringing relief to the families Obamacare has hurt."
Sherrod Brown, D-Ohio, said: "Buying and selling healthcare stocks as a member of Congress while you are voting and helping those companies, that is bad enough, but what (Price) wants to do to maybe the greatest program in American history, Medicare, is much, much worse."
A yes vote was to confirm Price.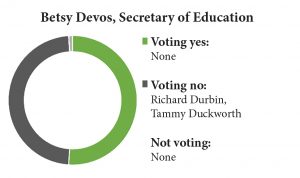 Betsy Devos, Secretary of Education: By a vote of 51 for and 50 against, with Vice President Mike Pence casting the 51st vote, the Senate on Feb. 7 confirmed Betsy DeVos as the 11th U.S. secretary of education. All Republican senators except Lisa Murkowski of Alaska and Susan Collins of Maine supported DeVos, and all members of the Democratic caucus voted against her nomination.
DeVos, 59, is prominent in the national school-choice movement and has helped expand charter schools and school-voucher programs in Michigan, her home state. An heiress who also married into wealth, she reported $5.3 million in political contributions to benefit Republican candidates over the past five years, including $1.99 million in the 2015-2016 election cycle.
Supporters said DeVos would direct improvements in K-12 education, particularly for students now unable to leave inner-city schools, while disrupting teachers' unions and shaking up education bureaucracies. Critics said DeVos used campaign donations to "buy" her nomination, would divert limited taxpayer dollars to ideological causes and has a financial portfolio in conflict with programs she would administer. They noted she has never been a part of public education.
Majority Leader Mitch McConnell, R-Ky., said DeVos "understands that our teachers, students, parents, school boards and local and state governments are best suited to make education decisions — not Washington bureaucrats."
Patty Murray, D-Wash., said DeVos "has dedicated her career and her inherited fortune to privatizing public schools, to tearing down public education, to defunding it in order to push more taxpayer dollars into private schools and for-profit charters."
A yes vote was to confirm DeVos.