Experts offer food safety tips for summer eating
Chronicle Media —

June 3, 2017
The closer summer gets, the more often we eat outside – on a picnic, at a graduation party or around the grill.
"Whether you are picnicking in the park or heading out to a backyard event, summer is a time to savor the seasonal flavors, and time with family and friends," said Laura Barr, Nutrition and Wellness Educator, University of Illinois Extension. "It also is important to remember proper temperatures for food so that everyone continues to enjoy the weather and time together."
No matter the menu, there are some easy guidelines to keep top of mind, said Barr.
"It is critical to keep some foods cool before and after the serving time," she said, explaining that potentially hazardous foods include raw or cooked meats; cheeses, yogurt and other dairy products; cooked grains, beans, and vegetables; and cut fruit and vegetables.
"Keep these things in a cooler or refrigerated, and some dishes should be served on ice, such as shrimp cocktail," Barr said. "If a potentially hazardous food sits out for two hours, it is best to toss it. As the saying goes, 'When in doubt, throw it out.'"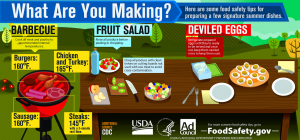 The fastest bacterial growth occurs between 70 degrees and 125 degrees, which means both room temperature spreads and outdoor meals present potential risks. As bacteria multiply, so does the risk of food-borne illness, said Barr.
"With a few simple steps, everyone can enjoy the food of the season safely, and continue to celebrate the milestones and holidays of summer."
— Experts offer food safety tips for outdoor summer eating —