Kids and holiday decorating
December 6, 2019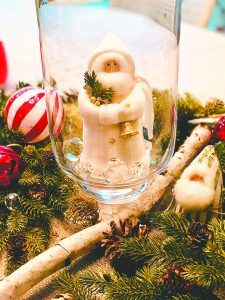 DONNA'S DAY: CREATIVE FAMILY FUN
Ask me for a few memories of Christmases past, and I instantly recall my dad on a ladder stapling multicolor strings of lights to the eaves of our house. Mom festooned the interior with swags of evergreen and fresh eucalyptus (we lived in Northern California) with gilded angels and shiny ornaments. Although my brothers and I decorated cookies and set up the manger scene, it was my folks who primarily created the holiday magic around our place.
In today's more relaxed style, why not bring the kids into the center of holiday decorating with you, and make the coming month a do-together season of creativity, entertaining and giving?
To get kids started, here's a whimsical centerpiece that combines a variety of objects to tell a story or suggest a holiday wintry theme to adorn a dining-room table or mantel. Look for a clear glass hurricane or a clear glass wide vase you may have tucked away in your storage closet. Then choose small holiday items and images that express the way you celebrate the season, along with nature finds. Then bring out stored ornaments, mini strings of battery-operated lights or candles.
Here's the stuff you need for each arrangement:
— one tall and wide (about 12 inches by 5 inches) clear glass hurricane shade, a similar size plain, clear glass vase, or a glass chimney tube (available at craft and discount stores)
— a tray, a large round plate or a wide, shallow bowl for the base
— small keepsake holiday or themed items, toys, artificial greens or nature finds, such as mini pinecones and moss
Here's the fun:
Arrange holiday-themed items in the center of the base, then place glass shade, vase or chimney tube over it. Set in the middle of your dining-room table, or wherever you wish to display it. Add greens or other decorative items around the outside of the base.
For example:
Set a miniature decorative pine tree with tiny decorations dusted with snow in the middle. Around the outside, create a village scene with mini houses and figurines from your kids' toy bins or your ornament collection.
School-age kids might enjoy decorating the glass by painting designs with permanent paint pens or acrylic paint in squeeze bottles.
Set a pillar candle inside by itself and let the light sparkle through colorful flat-sided marbles that you glue randomly around the outside of the glass shade. (Use thick, quick-setting glue for best results.) When the candle glows at mealtime, it will remind your child that he or she was the one who placed the marbles just so!
***
Donna Erickson's award-winning series "Donna's Day" is airing on public television nationwide. To find more of her creative family recipes and activities, visit www.donnasday.com and link to the NEW Donna's Day Facebook fan page. Her latest book is "Donna Erickson's Fabulous Funstuff for Families."
© 2019 Donna Erickson
Distributed by King Features Synd