Make and give beeswax candles
By Donna Erickson —

December 13, 2019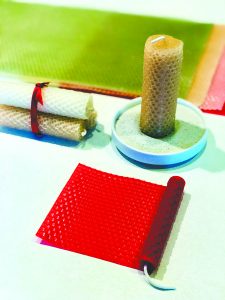 DONNA'S DAY: CREATIVE FAMILY FUN
Rolling sheets of beeswax into beautiful candles is a safe and easy way to make unique, attractive and appreciated holiday gifts with your children.
The steps for making these candles are simple: Cut, press with fingers and roll! Even 4- and 5-year-olds will be thrilled when they touch the honeycomb texture and discover that they can make their own candle in a snap, once the beeswax is cut to size. The steps require no melting other than that provided by your warm breath!
Here's what you need to make four 4-inch-tall candles:
— One sheet of beeswax (available in natural shades and colors at candle and craft stores or online, typically in 8-inch-by-16-inch sheets)
— Ruler
— Scissors or a pizza cutter
— Candlewicks (available at craft stores)
— Ribbon, gift tags for gift-giving
Here's the fun:
To make four 4-inch-tall candles, use scissors or a pizza cutter to cut the sheet of beeswax into four rectangles measuring 4 inches by 8 inches. (Assist young children.)
Place one beeswax rectangle on the working table. Lay a 5-inch wick on the short edge of the beeswax with 1 inch hanging over one edge. Using the tips of your fingers, gently but firmly roll the beeswax forward over the wick. Be sure it is tight. Here's where you might add a little warm breath on the wax. It will soften so that the first roll is snug.
Now, roll the wax over and over down to the end until it forms a candle. Done!
Hold the candle upright, and push the end opposite the wick lightly down on the table to flatten the base. Trim wick. Make several candles for gift-giving. Simply tie them together with ribbon and tuck in a gift bag with a personalized tag.
You may wish to save one or two for your own family, and light at your holiday dinner to make the occasion extra festive. Don't forget to let your children blow them out when the meal is over; it's one of those little things they will always remember.
Extra decorative tip: Cut out small shapes from beeswax sheets in contrasting colors and press them onto the outside of the candles.
NOTE: When burning candles, an adult should always be present to supervise.
***
Donna Erickson's award-winning series "Donna's Day" is airing on public television nationwide. To find more of her creative family recipes and activities, visit www.donnasday.com and link to the NEW Donna's Day Facebook fan page. Her latest book is "Donna Erickson's Fabulous Funstuff for Families."
© 2019 Donna Erickson
Distributed by King Features Synd.