PRIME TIME WITH KIDS: African peanut stew with chicken
By Donna Erickson —

December 21, 2017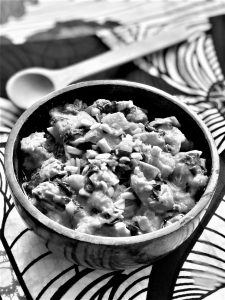 This easy-to-prepare chicken peanut stew is an adaptation of a delicious dish I enjoyed during my trip to the Ubangi region of the Democratic Republic of Congo this year. Served in large bowls, it is a favorite meal for celebrations when families and guests gather.
This simplified interpretation uses boneless chicken breasts for easy prep. Natural peanut butter gives it a creamy richness and an "I'll gladly have a second helping" flavor. The chilies provide a spicy kick.
Prepare the hearty recipe for family and friends for a memorable meal if you celebrate Kwanzaa this coming week (Dec. 26-Jan. 1), and serve it at other events in the new year. You'll likely discover that it will be a 2018 favorite for both kids and adults.
AFRICAN CHICKEN PEANUT STEW
Serves 6-8
1/4 cup peanut oil or canola oil

1 1/2 pounds boneless, skinless chicken breasts cut into small bite-size pieces

1 teaspoon salt and black pepper to taste

1 medium onion, chopped

1 clove garlic, minced

1 large sweet potato, peeled and cubed

1 inch piece fresh ginger, peeled and minced, about 1 tablespoon

1 (14-ounce) can diced tomatoes, drained

1/4 cup canned chopped chilies (optional)

3 cups chicken stock

1/2 cup natural peanut butter, smooth or chunky

2 cups salad spinach, chopped

Chopped roasted peanuts, for garnish
Heat 2 tablespoons oil in a large stew pot over medium-high heat. Season chicken with salt and pepper, and add to pot. Cook until tinges of brown appear on all sides, about 8 minutes. Transfer to a plate, and set aside.
Add remaining oil to the pot and saute onion until soft, about 5 minutes. Add the garlic, sweet potato and ginger, stirring frequently, about 3 minutes. Stir in tomatoes.
Return chicken to the pot and add chilies (optional) and 2 cups chicken stock. Bring to a boil and simmer on low for about 15 minutes.
In a medium bowl, whisk together the peanut butter and remaining cup of chicken stock. Stir the mixture into the soup. Add chopped spinach and simmer for about 5 minutes.
Adjust seasoning and serve in bowls with peanuts sprinkled on top.
Parenting tip: Some people like their chilies mild; others hot. Many kids prefer to skip them altogether. If your kids would rather not have them, better to put chilies on hold and make a dish the whole family can gather around, and simply place them in a little dish for an add-on.
***
Donna Erickson's award-winning series "Donna's Day" is airing on public television nationwide. To find more of her creative family recipes and activities, visit www.donnasday.com and link to the NEW Donna's Day Facebook fan page. Her latest book is "Donna Erickson's Fabulous Funstuff for Families."
© 2017 Donna Erickson; Distributed by King Features Syndicate
—PRIME TIME WITH KIDS: African peanut stew with chicken–