PRIME TIME WITH KIDS: Brighten wintry days with oranges
By Donna Erickson —

January 18, 2018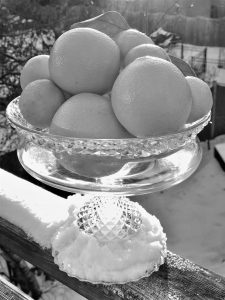 I'll never forget the morning when a box of California sunshine appeared on our doorstep. It was a 20 degrees below zero January day in Minnesota. The kids and I eagerly tore open the box to find carefully wrapped oranges, handpicked from a tree in my aunt and uncle's backyard in Visalia, California. Nothing could brighten our spirits more than this gift of citrus gold.
To humor us, Uncle Carl printed his initials with a blue pen on tiny stickers and affixed one on each orange as his personal trademark, just in case we doubted their place of origin. He also included a list of fun activities. Here are some of them, along with others you may enjoy doing during these winter days when we all can use an extra dose of vitamin C and sweet goodness.
Hand out an orange to each member of the family. Touch it, squeeze it, smell it after scraping the skin. Ask your young children to describe what's inside an orange. Think of all the possibilities.

Guess the number of sections inside the orange you hold. Now, peel the orange, separate and count the sections, and find out who guessed correctly.

Talk about where oranges come from. "The grocery store" is not a correct answer!

At snacktime or lunchtime, for easy peeling, an adult should slice off the top half-inch of the orange. Starting at the trimmed edge, make a slice through the peel down to the base. Make five or six slices going around. Your child now easily can peel the orange.

Use empty halves of oranges as lovely natural bowls for a fruit salad, sorbet or gelatin.

Keep oranges, mandarins, clementines and tangerines in easy reach on your kitchen table or counter for healthy snacking any time of day. I like to place the sunny-looking fruit in a favorite family bowl that came in a trunk from Sweden when my great-grandparents immigrated to the U.S. in the 1880s. I am quite sure oranges were a new treat to them when they arrived here. Now I tempt my family with their healthy goodness while creating a colorful centerpiece at the same time.
***
Donna Erickson's award-winning series "Donna's Day" is airing on public television nationwide. To find more of her creative family recipes and activities, visit www.donnasday.com and link to the NEW Donna's Day Facebook fan page. Her latest book is "Donna Erickson's Fabulous Funstuff for Families."
© 2018 Donna Erickson; Distributed by King Features Syndicate
—PRIME TIME WITH KIDS: Brighten wintry days with oranges–