PRIME TIME WITH KIDS: Cheddar cheese and scallion biscuits for St. Patrick's Day
By Donna Erickson —

March 8, 2018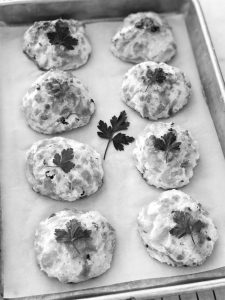 Whenever I run into my Irish-American friend Margaret Wachholz, I feel like I've just won a ticket to the Emerald Isle. It's not just her catchy sayings and accent that inspire me; she simply exudes joy whenever I tell her about my attempts to be just a wee bit Irish, especially around St. Patrick's Day.
When I recently shared a favorite biscuit recipe made with cheddar cheese and scallions, which I thought might be ideal for a St. Patrick's Day dinner, she exclaimed, "'Tis, indeed, but be sure to add lashings of butter! Irish butter."
Good thing, because this recipe calls for butter in the batter and for brushing on top of the warm biscuits — perfectly suited to accompany an Irish-themed meal on March 17,
This easy recipe skips mixers, kneading and biscuit cutters in the prep. Just set out a big bowl, grab a wooden spoon and call in the kids. They can measure and stir before you pop the doughy mounds in the oven. When baked, they can brush the lightly browned tops with "lashings" of butter and top with a shamrock-shaped flat parsley leaf as a nod to the "green."
CHEDDAR CHEESE AND SCALLION BISCUITS
Makes 16 medium biscuits
2 cups all-purpose flour

1 tablespoon baking powder

1 tablespoon garlic powder

1 tablespoon sugar

1 teaspoon salt

1 cup whole milk

1/2 cup plus 2 tablespoons unsalted melted butter (resources below)

2 cups shredded mild cheddar cheese (look for Irish cheddar for St. Patrick's Day)

2 teaspoons scallions, chopped

1 tablespoon parsley, chopped

16 whole leaves from flat leaf parsley, for garnish (optional)
To prepare oven and baking pan: Heat oven to 450 degrees. Line a baking sheet with parchment paper.
To prepare dough: In a large mixing bowl, let your kids measure and combine flour, baking powder, garlic powder, sugar and salt. Stir with a big spoon. Add milk and 1/2 cup of the melted butter, and combine lightly until flour is mixed in. Do not overstir. It will be sticky. Fold in the cheese, scallions and chopped parsley.
To bake: Use an ice-cream scoop or large spoon to drop equal-size mounds on the baking sheet. Bake 12-14 minutes, until lightly browned.
To serve: Remove from oven. Brush each biscuit with remaining 2 tablespoons melted butter and press a parsley leaf shaped like a shamrock on top.
Extra idea: If you have leftovers, warm them up in the morning for Sunday brunch to accompany an egg dish.
Resources: Kerrygold brand pure Irish butter is widely available. Kerrygoldusa.com.
***
Donna Erickson's award-winning series "Donna's Day" is airing on public television nationwide. To find more of her creative family recipes and activities, visit www.donnasday.com and link to the NEW Donna's Day Facebook fan page. Her latest book is "Donna Erickson's Fabulous Funstuff for Families."
© 2018 Donna Erickson; Distributed by King Features Syndicate
—PRIME TIME WITH KIDS: Cheddar cheese and scallion biscuits for St. Patrick's Day–