PRIME TIME WITH KIDS: Make look-alike polar fleece scarves for cozy winter days
By Donna Erickson —

December 14, 2017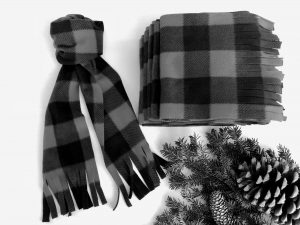 Be warm and feel cozy with easy, no-sew polar fleece scarves. Make one for each member of the family — including your dog! — in the same plaid or pattern, and you'll be dressed with extra family spirit for caroling, sporting events, get-togethers and taking photos.
Find washable polar fleece fabric in a variety of patterns and designs by the yard online and at fabric stores. (Stores such as Jo-Ann offer coupons regularly for significant discounts on your purchase. My scarves came to less than $2 each.)
I zoomed in on the checks and plaids, and chose classic black and red buffalo check this year — a great look for the holidays and into the coming, cold winter months. The straight lines of plaids and checks provide a visual guide when measuring and cutting, a timesaver when cutting out several scarves.
For school-age kids and adults, an 8-inch-by-60-inch scarf is a nice size, so count on purchasing about 1 2/3 yards for six scarves, depending on the repetition of the pattern. Since the fleece doesn't ravel, there's no need to allow for seams.
Here's what you'll need for six medium-size scarves:
1 2/3 yards of 59-60-inch-wide polar fleece fabric

good sewing scissors or rotary cutter (adults only) and rotary cutting mat

a clear plastic ruler such as a quilter's ruler

straight pins or fabric pencil if using scissors
Here's the fun:
1. Lay out the fabric on your worktable and rotary cutting mat, if using rotary cutter. Measure and mark the length (60 inches) and width (8 inches) points of your scarves with straight pins or fabric pencil. The scarf length should be along the selvage (not across the width of the fabric), so that the scarves won't stretch out of shape. For a uniform look, be mindful of repeat checks or plaids as you measure. Adjust measurements if making scarves for small children or your pet.
2. Cut off the selvages, and then cut out scarves.
3. Cut fringe ½-inch by 4 inches on each end for a fun, finished look.
Extra idea: For a unique and useful memento, make matching scarves for guests at your next birthday or sledding party.
***
Donna Erickson's award-winning series "Donna's Day" is airing on public television nationwide. To find more of her creative family recipes and activities, visit www.donnasday.com and link to the NEW Donna's Day Facebook fan page. Her latest book is "Donna Erickson's Fabulous Funstuff for Families."
© 2017 Donna Erickson, Distributed by King Features Syndicate
—PRIME TIME WITH KIDS: Make look-alike polar fleece scarves for cozy winter days–