PRIME TIME WITH KIDS: Potato latkes (potato pancakes) for Hanukkah and year-round
By Donna Erickson —

December 7, 2017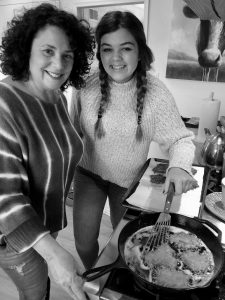 "When the calendar turns to December, we're a blended family as far as holiday traditions go," said professional caterer and mom, Carole Blumenberg Garrigos. Her husband was born in Seville, Spain, of Catholic heritage, and she was raised in the Jewish faith in St. Louis Park, Minnesota. Their high-school-age daughter Carmen practices Judaism, but appreciates both family religious traditions, including the approaching celebrations of Hanukkah and Christmas.
On a recent visit to their home, I asked 17-year-old Carmen what the eight days of Hanukkah, beginning Dec. 12, mean to her.
"The most memorable night is when my extended family gathers at our home at sunset, and we light candles on the menorah, sing a blessing, and eat a meal with tender, juicy brisket, a green salad, Jell-O and — fresh out of sizzling pans on the stove — potato latkes!" she said.
So we grated, stirred and fried up a big and beautiful batch of 12 golden latkes (potato pancakes) together. Topped with dollops of applesauce and sour cream (if you opt for ketchup on top, that's OK too, according to Carole), I was convinced that latkes are delicious not only during Hanukkah, but anytime of the year.
FAMILY-STYLE POTATO LATKES
Serves 4-6
4 large potatoes (Carole prefers Yukon gold, scrubbed and unpeeled)

1/2 onion

2 eggs, lightly beaten

1/4 cup flour

1 teaspoon salt

freshly ground pepper to taste

1/2 teaspoon baking powder

vegetable oil for frying

sour cream for topping

applesauce for topping
1. Cut potatoes and peeled onion in chunks and coarsely shred in a food processor, or use a box grater. Place in a mixing bowl.
2. Add eggs, flour, salt and pepper, and baking powder. Toss to combine.
3. Heat 1/4 inch oil in a heavy frying pan over medium high heat. Drop mixture in heaping spoonfuls into the hot oil. Cook for about 3-4 minutes. Turn with a spatula and cook to light brown and crisp on both sides.
4. Serve immediately with toppings of sour cream and/or applesauce.
EXTRA IDEA: For a twist, heat up your waffle iron, oil lightly, and cook the potato mixture by the spoonful until crisp. Enjoy as a brunch item topped with a poached egg, smoked salmon and chopped chives as a garnish, if you wish.
***
Donna Erickson's award-winning series "Donna's Day" is airing on public television nationwide. To find more of her creative family recipes and activities, visit www.donnasday.com and link to the NEW Donna's Day Facebook fan page. Her latest book is "Donna Erickson's Fabulous Funstuff for Families."
© 2017 Donna Erickson
Distributed by King Features Syndicate
—PRIME TIME WITH KIDS: Potato latkes (potato pancakes) for Hanukkah and year-round–