PRIME TIME WITH KIDS: Supper is on with hearty wild rice chicken casserole
By Donna Erickson —

November 16, 2017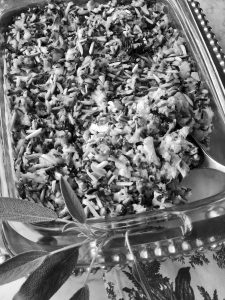 Here's our tasty, family-friendly version of a "Minnesota Hotdish." Hotdish, you say? If the term is new to you, think "casserole," which is really the same thing — a baked main-dish combo of vegetables, meat and rice or potatoes, all mixed together with a cream sauce or canned soup.
This satisfying recipe melds tradition and taste in every bite with the nutty flavor of wild rice and the crunch of the water chestnuts. While our family hasn't entered this favorite in one our Minnesota "hotdish competitions," I can assure you it's a winner with family and friends.
When you have Thanksgiving leftovers in your refrigerator, turkey can be substituted for the chicken, and a generous dollop of cranberry relish or sauce on the side makes a colorful, tasty accompaniment.
For scheduling convenience, the prep work can be done ahead, if you wish. Assemble the recipe with your kids in a casserole baking dish, cover and refrigerate overnight. It will be ready to pop in the oven the next day for dinner. While it bakes, slice up hearty crusty bread, toss salad greens with fresh orange slices and a vinaigrette, and you're all set for a delicious warm-you-up cozy fall meal.
WILD RICE CHICKEN CASSEROLE
Serves 6-8.
1 (10-1/2 ounce) can cream of chicken soup

1 (10-1/2 ounce) can cream of mushroom soup

3/4 cup mayonnaise

1 1/2 cups cooked wild rice

1 1/2 cups cooked long grain white rice

4 cups cut-up cooked chicken

1 cup diced celery

1 cup diced red pepper (substitute green bell pepper)

3/4 cup chopped green onions

1 (8-ounce) can water chestnuts, drained and loosely chopped

1/3 cup slivered almonds, lightly toasted

chopped fresh parsley (optional)
Preheat oven to 350 F.
In a large bowl, combine soups and mayonnaise. Stir in cooked wild and white rice, chicken, celery, red pepper, green onions and water chestnuts.
Transfer into a 9-by-13-inch baking dish. Bake, uncovered, 50-55 minutes until bubbly.
Remove from oven and sprinkle toasted almonds and fresh parsley on top.
Serve piping hot.
Shopping Tip: Six-ounce boxes of combined long grain and wild rice to yield three cups of cooked rice for this recipe are available in many grocery stores.
***
Donna Erickson's award-winning series "Donna's Day" is airing on public television nationwide. To find more of her creative family recipes and activities, visit www.donnasday.com and link to the NEW Donna's Day Facebook fan page. Her latest book is "Donna Erickson's Fabulous Funstuff for Families."
© 2017 Donna Erickson
Distributed by King Features Syndicate
—PRIME TIME WITH KIDS: Supper is on with hearty wild rice chicken casserole–