Put your own 'Stamp' on the holidays
By Donna Erickson —

December 19, 2019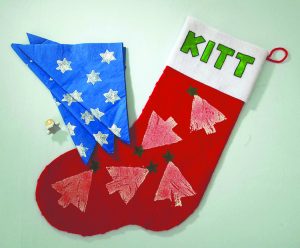 DONNA'S DAY: CREATIVE FAMILY FUN
Whether we're children or adults, we all like to feel useful and part of holiday festivities. Now is the time to enlist the kids in some projects! Stamping is one of the easiest and rewarding. Here are some ideas that can be mixed and matched to put your own stamp on a new holiday tradition.
Hanukkah Napkins
First, make a printing stamp. Draw and cut out a small 1-inch-by-1-inch or larger Star of David from an extra computer mouse pad or foam core. (To make a simple Star of David pattern, cut two triangles out of paper. Overlap the triangles to form the star. Place on the mouse pad or foam, outline the shape with a marker and cut out.) Glue the cutout to a block of wood using strong nontoxic glue or a glue gun.
On a newspaper-covered table, pour silver or white acrylic paint into a shallow dish. With a small brush, paint the star portion of the stamp. Blot the stamp on a paper towel, and then stamp the design on the outside of a blue cotton fabric or paper napkin. Continue stamping more napkins, adding paint to the stamp as necessary. If using cotton napkins, an adult should heat-set the paint with a warm iron.
Christmas Tree Stocking
Make a stamp as described above in the shape of a Christmas tree. Stamp the design with acrylic paints on a plain purchased or homemade felt or cotton Christmas stocking. When dry, stamp stars to top the trees.
Potato Stamp
Make a stamp with a potato! Cut a potato in half, and an adult may carve a design on the cut surface with a paring knife. Sop up extra moisture from the potato with a paper towel before printing. Poke a fork in the opposite side of the potato for a handle to make printing easier for small hands.
If your printers are ambitious, bring out craft paper and print up gift wrap and tags too. When your paper is dry, wrap your gifts. Accent with bright ribbon.
***
Donna Erickson's award-winning series "Donna's Day" is airing on public television nationwide. To find more of her creative family recipes and activities, visit www.donnasday.com and link to the NEW Donna's Day Facebook fan page. Her latest book is "Donna Erickson's Fabulous Funstuff for Families."
© 2019 Donna Erickson
Distributed by King Features Synd.