Another accolade for Naperville as city named second best in nation
Cathy Janek for Chronicle Media —

April 25, 2017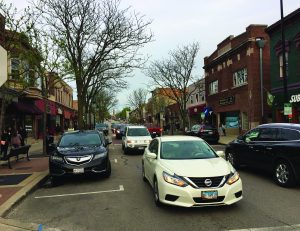 Naperville was recently named the second best city to live in the United States—falling below only Ann Arbor, Michigan in the rankings assembled by Niche, a website that provides data on schools, colleges, and cities across the United States.
"Naperville being named the second best city in America to live by Niche is a real honor," Naperville's Mayor Steve Chirico shared on Facebook. "I've been to Ann Arbor and it's awesome, so Naperville is second to a great city."
Niche gave Naperville top grades based on housing, family life, diversity, jobs, health and fitness, outdoor activities, and commuting.
Other top ten cities include Arlington, Va., Columbia, Md, Berkeley, Calif., The Woodlands, Texas, Plano, Texas, Overland Park, Kan., Boulder, Colo., and Irvine Calif.
Of nearly 400 reviews on the Niche website which are factored into the rankings, most gave Naperville and "excellent" or "very good."
One of the recent reviews of Naperville on the Niche website stated, "Naperville is a town where you love to live, shop, and have your kids attend the schools. Downtown Naperville has plenty of shops and restaurants and the famous River Walk. It has a very friendly atmosphere. Naperville is just about 35 minutes from downtown Chicago."
On the downside, a couple of reviewers knocked Naperville down a notch for its weather and the state's budget issues and corruption.
To determine the ranking Niche took into account location, quality of local schools, crime rates, housing trends, employment statistics, and access to amenities of 228 cities across the United States.
Niche also gave Naperville top honors in two other rankings—the safest city in the country and the best place to raise a family for 2017.
Safest city rankings were based on crime rates for murder, assault, rape, burglary, and other crime statistics by city from data from the FBI and the U.S. Census Bureau.
The top grade for the best place to raise a family takes into account key factors, such as the quality of local schools, safety, affordability, and access to family amenities.
The city's low crime rate and highly-ranked schools are just a couple of reasons why families like Lorie Power's moved to Naperville.
Power moved to Naperville from Evanston in 2011 and couldn't be happier.
"The schools are highly-ranked, you get more for your money compared to the North Shore, and there is plenty of outdoor space for the kids," she said. "And, Downtown Naperville offers great shopping, food and nightlife."
National rankings are nothing new to Naperville.
In 2016, Naperville cracked the top ten on Money magazine's list of best places to live.
The accolades don't stop there.
In 2016, NerdWallet ranked Naperville as the wealthiest city in the Midwest and the 19th wealthiest city in the nation based on income, housing prices, and credit availability.
And last year, Zippia, a website that helps people make career decisions examined poverty level, median household income, and unemployment rate and ranked Naperville as the third "most successful city" in the United States falling only behind Frisco, Texas, and Cary, North Carolina.
Baird & Warner real estate agent Audrey Mital who has lived in Naperville for the past 16 years and sent her kids to Naperville schools said, "Having worked with both relocation clients and move-up buyers, most of the time people come to Naperville for the schools.
"All the activities and events that are held throughout the year and the programs offered by the Naperville Park District that are available for people of all ages is a huge draw also," she added.
"When I take clients to see Centennial Beach, the Riverwalk, and downtown Naperville, it always brings a big smile to their face and usually seals the deal," Mital said.