Artists, writings look to make money, promote themselves at C2E2
By Igor Studenkov For the Chronicle Media —

May 1, 2017
Every year, fans of comic books, anime, science fiction, fantasy and other geeky pursuits come to  McCormick Place to attend Chicago Comics and Entertainment Expo (C2E2), where they can shop, attend panels, dress up as their favorite characters and generally have fun.
But for artists and writers at the Artists Alley, the comic book convention is a place to make money and get the word out about their work. While many creators are local, some come from as far as Seattle. All of the creators interviewed said that having a spot at the Artists Alley has been helpful — and, in some cases, they even wound up doing better than expected.
C2E2 has been a Chicago fixture since 2010. The exact dates differ every year, but it usually runs Friday-Sunday sometime during spring. This year, it took place April 21-23, and the next year's convention is currently scheduled for April 6-8.
An Artist Alley is a common feature at fan conventions. Comic book artists, writers and creators that do both can rent tables, where they can sell merchandise, draw commissioned artwork and sign comic books convention-goers bring by. As is the case with many conventions, C2E2 Artist Alley is egalitarian in design — creators whose work has been published by major comic book companies sit next to creators who are just starting out, or who only have a few comics under their belts. And while some convention-goers hone in on particular creators, others simply walk around, stopping by whichever tables draw their attention.
According to the programming guide, the first C2E2 had 114 creators in the Artist Alley. Since then, the numbers have been growing, with this year's Artist Alley, hosting 480 creators.
Writer Todd Black, of Champaign has been attending C2E2 for the past seven years, and he had a table at the Artist Alley for the past three years. As he said just because you apply for a table doesn't mean you'll necessarily get in.
"[In the application], you say your name, what you've published, information on who you worked for, what you'd be [selling]," he said.
Some people get in right away, while others, like Black, go on the waiting list. So far, being on the waiting list had been paying off.
"I've just been lucky enough to get in three times," he said.
While the application itself is free, those who get in need to pay $200 for a half-table and $425 for a whole table.
Black said that, in his experience, simply having a presence in the Artist Alley is a great way to get the word out.
"Just being here is important," he said. "It [lets you] show off your work to people you'd never meet anywhere else."
Black added that he liked that the Artist Alley lets him talk to people, which gave it a much-appreciated personal touch. And it allowed him to sell hard copies of comic books he co-created — outside of conventions, he explained, most of his sales are digital.
Adam Fotos is painter and sculptor, who attended C2E2 to sell the comics he wrote and drew, including Dragon & Goat, a kids-orientated  newspaper strip style comic, and Panopticorn, a horror comic set in rural Illinois. Fotos had a table at the Artist Alley since he moved to Chicago four years ago.
"It seemed like one of the best venues in comics," he said.
Fotos said that, so far, it has paid off.
[Sales] have been pretty consistent," he said. "It's gradually getting better."
When artist Sean Dillon attended C2E2 last year, he lived in New Jersey. He had since moved to Seattle. He was there to sell issues of "Sweetie," a superhero/action hybrid comic book he co-created with writer Steven Petrivelli.
"I wouldn't sell anything if I haven't [had a table] at the Artist Alley, he said. "There is a lot of talent here, which is incredible."
Dillon also said that many of the people who stopped by his table last year would reach out to him over the Internet to ask about his future projects.
Artist Laura Graves, also of Seattle, has been at Artist Alleys at a number of conventions, but this was the first C2E2.
"A lot of my friends told me it was such a great show, and I've never been to Chicago, so I thought  why not go?" she said. "I just like meeting different people, seeing friends and having a good time."
Graves said that she enjoyed the convention and she's been gratified by reactions to her artwork.
"A lot of people, they're like I've never seen it's before, it's interesting and exciting," she said.
Would she consider coming back to C2E2 next year?
"Yeah, of course," Graves replied.
Some Chicago creators didn't have a table at the Artist Alley, choosing instead to get a booth on convention's exhibition floor. Chicago-based Kirin Rise Studios, which is made up of writer Ed Cruz and artist Ron Langtiw, were selling their illustrated novels.
Langtiw said that they've been exhibiting at C2E2 for the past three years, and that it, along with New York Comic Con, tends to generate a lot of sales for them. And he said that it definitely helps to get the word out. They ask people who stop by their booth to leave reviews on Amazon and other online retailers, and those reviews help sales, Langtiw said.
Spike Trotman, also of Chicago, attended the first C2E2 to promote Iron Circus Comics. She said at the time, the company was a way for her to release her own work. She said that the first convention didn't impress her, and she hasn't given it another change — until now.
Since then, her company expanded to become a publisher for other creators' work, specializing in graphic novels . Attending C2E2 this year, she had a much better experience.
"I'm impressed," Trotman said, during the April 21 interview. "I have to go back to the warehouse and pick up some books I sold out on, because I underestimated the demand."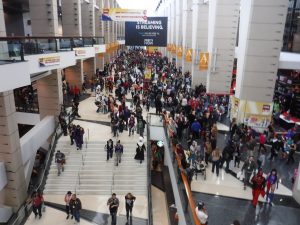 However, this year's C2E2 wasn't a good event for all creators. Canadian artist and writer Gisele Lagace had a spot in the Artist Alley, and she was scheduled to promote her work for IDW, a comic book publisher best known for comic book adaptation of television properties and putting together high-quality archives of out-of-print comic books. But when she drove up to the U.S. border, she ran into an unexpected problem.
"I was asked why and where I was entering the U.S.,"  Lagase said. "I said I was going to a comic book convention in Chicago. They asked me what I did as a profession. Naturally, I said I was a cartoonist. With that said, they asked my reasons for going to the con. I said it was to promote my work, and do signings."
The border agents wound up searching her car.
"Once they saw I had a few books in there and unfinished sketches, it went downhill from there, as they considered I'd be working in the States," Lagase said. "The fact that I was a freelancer didn't help matters."
The border agents performed a body search, fingerprinted her and took her photo. While she said they didn't indicate that she was banned, she was denied entry.
Lagace said that she attended comic book conventions in United States before — most recently, the 2016 New York Comic Con — and while her car was searched, the border agents simply asked her to fill out a form reporting that she was importing goods and sent her on her way.
Lagace said she was still trying to figure out what to do next.
"I've been put in touch with a lawyer to discuss what my options are," she said. "If it ends up that I have to pay super-expensive lawyer fees to get a work visa that most people would pay for to settle in the U.S. for whatever reason, I won't be doing it. So I guess time will tell."
Free subscription to the digital edition of the Cook County Chronicle
Read the current issue of the Cook County Chronicle
— Artists, writings look to make money, promote themselves at C2E2 —