Northbrook community comes out to celebrate cultures
By Karie Angell Luc For Chronicle Media —

May 17, 2018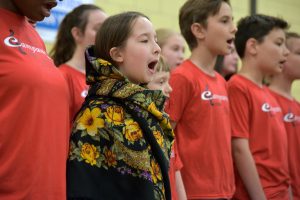 The Celebration of Cultures in Northbrook on May 6 drew up to 700 attendees to the North Suburban YMCA in Northbrook.
Since 2016, the Community Relations Commission by the Village of Northbrook has presented the annual Celebration of Cultures event in partnership with the North Suburban YMCA.
"A Celebration of Cultures is a diverse event that the Y is thrilled to support," said Howard Schultz, NSYMCA CEO/president.
The four-hour event, which began at noon, featured musical performances, a Korean book display and storytelling, cultural stations, a cricket demonstration by the Greater Chicago Cricket Association, craft making, food trucks and more.
Sunny temperatures were in the 60-degree range under blue skies as people noshed outdoors at picnic tables.
"Oh my gosh, who doesn't love food, especially these (empanadas) which you can eat with your hands?" said Natalie Zenner of Chicago who staffed the food truck, 5411 Empanadas. The truck's menu featured cuisine from Argentina.
The event co-chairs for 2018 were Christine Beeftink and Helena Osorio-Zavala, both members of the Community Relations Commission.
"We're just happy that people are here," Osorio-Zavala said.
"I think the power of this event is diversity and inclusion and just getting to know all of the cultures that co-exist."
Beeftink said, "It's a celebration of diversity, a celebration of cultures, and openness, a lot of things that we want to encourage.
"This has been many months of planning."
There was a 2 p.m. concert by the Chicago Folklore Ensemble. Appearances included the Bulta Korean Ensemble, Rucha Deshpande, the Campanella Children's Choir under the direction of Marianna Kosaya of Northbrook.
"I'm very proud of the work our choir director does," said Svetlana Nikiforova of Arlington Heights, the parent of Masha Nikiforova, 10, a fourth-grader and Campanella Children's Choir singer.
"She (Marianna Kosaya) deserves the praise.
The Nikiforova family has Russian heritage, Masha's mother said.
"I enjoy singing," Masha said. "Singing gives other people joy and happiness."
Making an arts craft pleated fan was Nicolas Iciek of Rolling Meadows. His mother Aneta Iciek helped her child in the activity.
Sunday's learning opportunity was about understanding and respect for one another's culture, Aneta Iciek said.
"It's nice," she said, of the event.
"Every country is different."
Get your free subscription of the Cook County e-edition
— Hundreds gather in Northbrook to celebrate cultures —-