Cook County news briefs
Chronicle Media —

February 28, 2015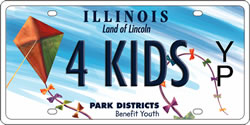 Alsip
Plates promote fitness
The Alsip Park District is encouraging residents to purchase license plates supporting Illinois park districts, forest preserves, and conservation, recreation and special recreation departments. The state plates raise funds to help agencies offer programs that teach children lifelong health, fitness and nutritional choices. Plates can be purchased by calling (877) 783-KIDS or by visiting www.4kidsplate.com. Plate forms are available at the Alsip Park District's Apollo Recreation Center.
Crestwood
Postal Service addresses ZIP code plea
The U.S. Postal Service is examining if Crestwood should get its own ZIP code. Residents were recently sent a survey from the Postal Service, asking for their input. For years, Crestwood has shared its ZIP code with Midlothian. Crestwood officials note that because utility taxes are determined by ZIP code, Crestwood residents pay the Midlothian utility tax and don't see any benefit from their payments. The 60444 Crestwood initiative was spearheaded by Mayor Lou Presta and village Trustee Theresa Flynn. They note that besides the utility-tax issue, the combined ZIP code also messes with property tax bills and insurance premiums. Survey results could be released this week.
Dolton
Three win in primary election
Three candidates won in the Democratic Consolidated Primary Election for Village Trustee in Dolton on Feb. 24. Unofficial results showed the winners were Robert E. Pierson Jr., Valeria Stubbs and Duane Muhammad. Stubbs was the top vote getter with 1,431 votes (21.91 percent), followed by Pierson with 1,390 (21.28 percent) and Muhammad with 1,294 (19.81 percent). Eight candidates were vying for the three spots. Also running were Cathern L. Bendell, Kiana Belcher, William H. Fleshman, Sabrina G. Smith and Cleophus D. Jones.
Deer Park
Good grief! Park concerns raised
Residents continue to express concern about plans for Charlie Brown Park. Lynda Coffinan, a resident group's spokesperson, likened the improvements at the park to Long Grove Road and its bike lane. Coffinan said residents' concerns are environmental, safety and transparency of dialogue between the Village Board and residents. Overall, she said, residents do not want the park commercialized and feel that it is not in line with the village's vision. Maintenance of the park is also a concern, she said. Coffinan said residents would like a better understanding of why the village is investing in the park and wants to make sure the village makes the right long-term decision. She said she looks forward to more open dialogue with the village.
Hickory Hills
Animal warden captures honor
Ingrid McNeff has been honored for 25 years of service with the Hickory Hills Police Department. McNeff, who began her career with the department in 1990, serves as animal warden and oversees ordinance enforcement and vehicle fleet maintenance. Chief Alan Vodicka presented McNeff with a service pin during a recent ceremony.
Morton Grove
Three come out on top for Action Party
Unofficial results show that John C. Thill, Rita E. Minx and Janine Witko were winners for the Action Party slate in the Consolidated Primary Election for Morton Grove Village Trustee. Thill received the most votes with 1,050 (23.11 percent, followed by Minx with 951 votes (20.93 percent) and Witko with 20.82 percent (20.82 percent). Five candidates were vying for the three seats. Also running were Shel Marcus and Maria S. Toth.
Mount Prospect
Library blanketed with snowmen
Students from John Jay Elementary and Robert Frost schools made their impact on the Mount Prospect Public Library's South Branch this winter by creating snowmen (on paper). MPPL staff sent blank snowmen to the schools and students returned more than 100 of them. Staff hung the snowmen from the ceiling of the library's Community Connections Center. Library staff have worked with the two schools previously. Staff visited John Jay Elementary during the school's goal-setting conference to talk about library services and encourage families to sign up for library cards. Staff visited Robert Frost School during the school's summer reading program to promote library use.
Palatine
Palatine man appointed spokesman
Curtis Sampson, 36 is one of seven black University of Phoenix alumni chosen to highlight the Road to Success Scholarship program. The school hopes to increase the number of African American graduates in careers fields such as education, health care, criminal justice, and security. Sampson is a retired US Army Captain and has also earned a doctorate in public administration.
Riverside
Water rates on the rise
The village has announced that it is raising its water rate from $8.93 per 100 cubic feet (748 gallons) to $9.34 per 100 cubic feet. Riverside's combined water rate, which includes sewer charges, will be $10.59 per 100 cubic feet. Village officials noted that only water costs are increasing. The village's sewer rate has been fixed since 2004, officials said. The rate increase is due to Chicago increasing its fees, Riverside leaders said. Chicago raised its water rates 25 percent in 2012 and 15 percent in 2013, 2014 and 2015 for all 130 suburbs that purchase water directly from Chicago or through intermediaries. Riverside residents should expect to see the water-rate increase on their next bill.