Cook County school board elections heating up
By Jean Lotus Staff Reporter —

March 21, 2017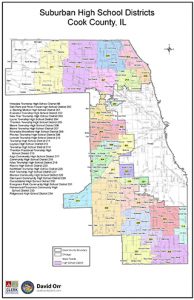 As the April 4 consolidated election approaches, some newbie school board candidates in suburban Cook said the contest is getting dirty — all for a volunteer position on a board that may pay a tiny stipend and is supposed to be about the best interests of school children.
In suburban Cook, some "outsider" candidates said superintendents found excuses to ban them from the school grounds. One got the runaround from a superintendent reluctant to comply with a Freedom of Information Request.  And several newcomer candidates all faced roadblock petition challenges, thrown up by opponents. The same election lawyer popped up in petition challenges in multiple district races.
BELLWOOD D88
In Bellwood District 88, candidate Maria Perez of the "District 88 Dream Team" slate was ordered off district property under threat of arrest, according to a December letter sent to her via registered mail.
"You are not permitted to enter any District 88 building or be present on school grounds without the express permission of an administrator due to your threatening conduct towards a District 88 School Board member at McKinley Elementary School Dec. 2, 2016," said the warning from D88 Supt. Rosemary Hendricks. Perez will be considered a trespasser, the letter says. "If you attempt to enter school grounds or attend a school-sponsored activity without permission, you will be asked to leave and police will be notified," it continues.
Perez insists the incident between herself and Board Member Annie Copeland was a disagreement, but never got physical. "From a conversation it went to a physical altercation according to Mrs. Hendricks," she added.  "It's the fish story that got bigger by the time it got to the superintendent's ears."
Copeland chose not to run for re-election. Attempts to contact Copeland for comment were unsuccessful.
Politics aside, Perez says being outlawed from the schools is causing problems.
"I can't pick up my children; I can't run my PTA meetings, I can't go to [school] board meetings because of this," Perez said.
Voter-Advocate Ben Silver of Elmhurst-based Citizen Advocacy Center said Perez should not have been blocked from the school without some kind of administrative hearing, according to Free Speech legal experts.
But Perez said the timing of the letter sent Dec. 14, a few days before petition signatures were due, was possibly meant to threaten her into dropping out. Copeland and she had exchanged words a few days prior, while she collected signatures in the Hillside Leamington Foods parking lot, Perez said.
"They thought if they sent me that letter, I would not turn in my papers and would not run," Perez said. "But I'm still in the race."
Perez's ticket-mate newbie Deborah Giles, has been Livestreaming school board meetings on social media.  Giles and others complained last summer when the board voted to "refill" Hendricks' district pension to the tune of $105,000, according to the Chicago Tribune. Hendricks had cashed out her $40,000 pension for working 20 years with the statewide Teachers Retirement System in the 1990s. But the board voted to "buy time" from TRS to replenish Hendricks's pension, plus cover a multi-thousand-dollar penalty for exceeding 6 percent in one year. Hendricks is on her third go-round with the district. She was let go twice in 2008 and 2012 for which D88 paid Hendricks $120,000 in legal buyouts. Hendricks has been criticized for hiring two of her daughters at the district and for bringing in other vendors from her old stomping grounds in Harvey and Hazel Crest. The board majority under President Marilyn Thurman voted to renew her contract this spring.
Giles said while collecting signatures at a currency exchange, an unknown man approached her and warned her, "You're stepping on my money."
LYONS SD103
A PTA-sponsored school board candidate forum at the George Washington Middle School was cancelled and had to find a new location, thanks to the new Lyons SD103 Supt. Carol K. Baker, who said she was trying to "keep politics out of the schools."
Baker also allegedly sent around an email to principals not to allow three newbie school board candidates to enter the schools, ostensibly to prevent politicking.
Forest View candidate Marge Hubacek, a longtime administrative assistant at the district, said she was stopped at the door at one school.
"I called a friend who said the principal had been notified by the superintendent that [school board candidates] couldn't go in building, and told them they should monitor all PTA meetings to make sure we weren't there," Hubacek said. "During weekends or after school, there are public events, and we shouldn't be kept out of those," she said.
Baker allegedly backed down after being questioned about the no-entry ban at a school board meeting, Hubacek said. The Chronicle was unable to reach Baker to confirm.
During the last Lyons School Board election, in 2015, Village law firm Odelson & Sterk and Lyons Mayor Christopher Getty financed the campaign of the four-member majority on the "Parents for Student Excellence" slate. The new board immediately fired the district lawyers and hired Odelson & Sterk, and created several new administrative jobs, critics of the board say.
CICERO SD99
Independent Cicero District 99 candidate Luz Chaheine, a substitute teacher at the district, is running against four incumbents closely connected with the administration of Town President Larry Dominick. Dominick's son Derek is board president and another son, Brian Dominick, runs the 12,000-student district's buildings and grounds.
"I've been to board meetings and it angers me that there's no transparency with anything that goes on in the district," she said. "It's like an exclusive club to be on the board, no open dialog, and the way they treat community members, it's shameful. I'm looking to be the eyes of the community," she said.
Ballot access was Chaheine's first challenge.
"They made it really difficult to get my name on the ballot," Chaheine said. "They dragged me to court multiple times."
Chaheine had the help of attorney Dante Orfei, a former theater professor at Cicero's  Morton College, where he was head of the teacher's union. Orfei butted heads with the Morton administration and board, but said he was unable to discuss why he left the community college, because of a gag-order agreement.
Chaheine shook her head about the district's response to a Freedom of Information Act request for the current board members and the length of their terms. FOIA officer and Supt. Rudy Hernandez asked for five extra days, saying the request was "too burdensome."  "They finally got the request to me the day before I was supposed to file my petitions," Chaheine said.
Those petitions were instantly challenged with the help of an election lawyer-for-hire, Chicagoan James Nally.
Nally was the same lawyer challenging the petitions of the five-member Bellwood Dream Team, and Lyons D103 candidate Sharon Anderson. Illinois election law is a specialty practice, and Nally was one of the busiest election attorneys working on school board race petitions this election.
According to the State Board of Elections website, Nally was paid more than $63,300 by campaign committees running up to this election season. His biggest clients paid large sums, most likely for retainers, before the election. These payments included $10,000 from Friends of Larry Dominick and $12,500 from the Palos Heights-based Committee for Responsible Government PAC, controlled by Patrick Montana of Montana and Welch law firm. Committee for Responsible Government was funded with leftover campaign funds of the late Schiller Park Mayor, Ana Montana — mother of Patrick — who died in November.
After her petitions were filed, Chaheine said her friends reported campaign workers knocked on the doors asking if their signatures were valid. "They wanted to check, did you really sign for this person?" she said.
At the Cook County Clerk's office for the signature "binder check" (now performed on computers) Chaheine was surprised to recognize Cicero Town Assessor Emo Cundari helping to verify signatures. Cundari is the spouse of Melissa Cundari, who sits on the Morton College board of trustees.
"It's interesting how Town of Cicero people are doing this, I would assume on taxpayer dollars," she said. "I would assume there's a huge conflict of interest. Who's policing this? Is this normal? I don't know."
Nally's petition challenges for all six candidates failed to stop them from getting onto the ballots. All were overruled by the Cook County Electoral Board.
"We found it really interesting that [Nally was] representing petition challenges in all of these districts," Chaheine said. "It seems like they are lower class or working class communities and communities of color."
Read the current issue of the Cook County Chronicle
Free subscription to the digital edition of the Cook County Chronicle
— Cook County school board elections heating up —