About half of suburban Cook towns opt out of county minimum wage
By Jean Lotus Staff Reporter —

June 20, 2017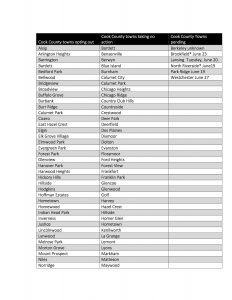 Almost half the 136 towns in suburban Cook County chose to, or were likely to, opt out of the County's minimum wage and employee sick leave ordinances before the July 1 deadline.
In October, 2016, the Cook County Board passed a minimum wage raise to $11 per hour rising over two years to cap at $13. In December, the county passed a law requiring five days of employee paid sick leave for full-time workers.
These rules are similar to Chicago minimum wage and sick leave increases for employees in the city.
The state minimum wage has been $8.25 per hour since 2011. In the November 2014 elections, more than 74 percent of voters approved an advisory referendum raising the state minimum wage to $15 an hour over several years. In 2016, more than 81 percent of voters approved earned sick time for employees.
But language in the new county law allows towns within the county to choose to opt out before the new rules go into effect.
Some towns around the county hastily added the opt-out to board agendas, after being asked by local chambers of commerce. Town trustees across the county found the issue pitted workers and workers advocates against business owners and town against neighboring town.
Some towns, such as Evanston, Oak Park and Des Plaines chose publically to take no action, meaning they would comply with new county wage laws.
  About 58 municipalities voted to opt out of the minimum wage and sick-time ordinances, with six more planning votes after press deadlines June 19-27. Around 70 towns took no action on the county ordinances, which will then go into effect at the beginning of July.
In Berwyn, Mayor Robert Lovero told city aldermen in May that businesses had requested the city opt out of the minimum wage increase.
"I received phone calls from small employers and I received letters from employees in larger businesses," Lovero said. "I want to know if our people are going to lose their jobs."
Lovero worried businesses would pack up and move to nearby "opt-out" villages where employee costs were lower. But some Berwyn aldermen said they would not support opting out. They pointed to nearby La Grange, where town trustees had voted in March not to opt out, after workers rights activists, citizens and religious leaders mobbed the village board meeting asking the town to support workers rights.
"Our community can afford to support their local work force," said resident Brecken Cutler, member of Indivisible La Grange/Lagrange Park, in an interview with The Doings.
At the June 13 Berwyn City Council meeting, public comments for and against opting out of the county law lasted two hours.
Big Buy's Sausage Stand owner Brendon O'Connor urged the city to follow the county's minimum wage laws in a post on his company social media page.
"It is the right thing to do, and in the long run I believe it will help Berwyn, its residents, and even its businesses," O'Connor wrote. "Make no mistake, the major chains carry their profits on the backs of underpaid workers, Frankenstein meat, and taxpayers. We all bear the brunt of their employees housing, food, and medical subsidies."
Manny Diaz, with Arise Chicago said, "These towns that are opting out are acting very shamefully, taking away worker protections passes by the county. If the state can't raise the minimum wage, it's up to local levels of government to take the leadership."
Chicago public interest lawyers at DesPres Schwartz & Geoghegan prepared a five-page memo saying that small non-home-rule villages, with populations below 25,000, were possibly exposing their boards to lawsuits if they opted out of the county rules.
"Eighty-nine percent of minimum wage earners are 21 years or older," said the Rev. C.J. Hawking of Arise Chicago. "These are folks supporting families."
Ultimately, Lovero said the aldermen did not want to put opting out on the agenda, so the city council would not vote.
In Forest Park, the village council did vote to opt out June 12. But residents and small business owners clashed in testimony. Workers employed by Ferrara Candy company and Crystal Yates of Forest Park, a healthcare worker at a local nursing home, begged the council not to take away the raises and sick pay the county's new law would bring.
"If you take this away from us, the sick days, the raise in pay, you're going to have the biggest infection [problem] you can imagine," she said. "Please don't do this to us."
Speakers said they would take their business to neighboring towns where workers were better paid and allowed to stay home if they were sick.
"I want to talk about lunch," said Etta Worthington. "What if a server or someone who works in the kitchen because there are no sick days comes to work with a case of diarrhea and ultimately a pathogen gets in your food? Our health and safety may be affected by opting out of this ordinance. After this happens, are you going to be having lunch in Oak Park? I think I'm not going to be."
"I believe most small businesses are completely in favor of paying our employees a fair, living wage," said Forest Park ice cream shop owner Connie Brown of the Brown Cow. "My most valuable asset isn't my ice cream it's my employees. The experience people have at my shop is because of my employees, and I want to keep and retain them and give them a good life," she said.
"The Cook County bill is a 'one-size-fits all,'" she added. "I have to sell $30 of ice cream an hour per employee to pay $10 an hour."
Brown said her youngest employees are 14-15-year-olds in high school, and raising their pay to $10 an hour would make more skilled employees feel less valued. "I have some employees who make more than I do," she said. "You can't create money out of thin air; all of my product cost is going up because of the suppliers' payroll, because I buy everything locally."
Forest Park Mayor Anthony Calderone said the state should have raised the minimum wage for all of Illinois, creating a level playing field.
The General Assembly passed a minimum wage increase in May that rises to $15 an hour by 2021 and includes sick days. But it remains to be seen whether Gov. Bruce Rauner will veto the bill.
— About half of suburban Cook towns opt out of county minimum wage —