Lincoln Towing wants proof of problems
By Kevin Beese For Chronicle Media —

June 8, 2016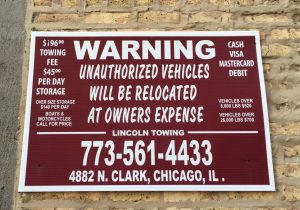 A Chicago towing company is wondering why the Illinois Commerce Commission wants to investigate its fitness to hold a towing license less than a year after the regulating agency renewed the firm's license.
The attorney for Lincoln Towing said he has requested documentation from the ICC showing just what triggered the investigation into the firm's fitness to hold a license.
"Lincoln did get renewed July 15. The ICC deemed the company fit at that point," lawyer Allen Perl said at a status hearing in the case Friday. "We are looking to understand what has happened since July 15."
The ICC contends that it has opened 166 investigations into Lincoln's towing operations since July 28 of which resulted in the issuance of a violation. ICC officials said, when bringing the case forward in February, that Lincoln's license is being called into question because of multiple violations and alleged violations of state law.
"This investigation will examine the company's management and conduct, and whether it is, in fact, fit to hold a license to operate in Illinois," Commissioner Miguel del Valle said when announcing the investigation back in February.
The ICC noted when filing its case that 92 of the citations against Lincoln were pending, with allegations ranging from improper invoicing and signage of invoices to relocation of authorized vehicles and overcharging motorists.
Perl said that most of the violations Lincoln has been cited for are mistakes in the reporting of tows (a number missing from the report, etc.) and not issues involving public complaints. He said Lincoln has gone to a new computer system, which requires all fields of a report to be filled out before the report can be filed. That will eliminate the vast majority of citations against Lincoln, according to Perl.
"Going forward, Lincoln has a new computer system," Perl said. "All fields now have to be filled out before you can generate an invoice."
The ICC will also examine if there are any criminal records for the company owners, employees or agents, the company's safety record and other factors that may bear on the company's fitness to hold a license.
Jennifer Anderson, transportation counsel for the ICC, said the information requested by Perl through a Freedom of Information Act request is voluminous and requiring computer searches through the state's central management information system.
"I don't foresee us reaching an agreement on everything (Lincoln is seeking)," Anderson said.
Perl said while he has asked for voluminous discovery information, he has only received two pages of public hearing testimony so far.
Lincoln's attorney has also asked for information on citations issued against two of the Chicago towing company's competitors, Rendered Services and A-1 Citywide Towing.
"We requested information on competitors," Perl said. "We want to see how complaints against competitors translate."
The ICC's case against Lincoln will be back up for a status hearing June 23.
Administrative Law Judge Latrice Kirkland-Montaque said she hoped the sharing of information between the two sides would start to determine just what the ICC's issues are with Lincoln.
"Hopefully, we will begin defining the scope (of the case)," Kirkland-Montaque said. "Right now, the case is very broad. Eventually, we will be looking at moving things forward and defining the scope and the investigation will help us as the case goes to hearing."
A Chicago City Council committee discussed Lincoln Towing in April.
Ald. Ameya Pawar (47th Ward) wants to have a city audit done to see if Lincoln is following protocol and documenting all towing cases, as required, with photographic evidence.
At an April hearing, Pawar said residents of his ward continually have issues with the towing company. He noted that in the city's 20th Police District alone, 600 man-hours – nearly one-quarter of one officer's time for a year – was spent on towing matters in 2015.
"It think it is a bad operation," said Pawar, who is working on a Towing Bill of Rights to help residents from being targeted by unscrupulous firms, said of Lincoln Towing.
— Lincoln Towing wants proof of problems —