Maywood gaming parlor may get earlier start time
By Kevin Beese Staff reporter —

December 5, 2017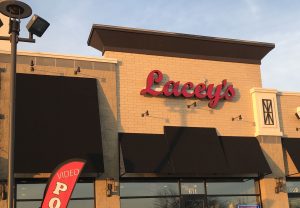 Maywood's only gaming parlor may soon get to open earlier in the day.
Lacy's Place, located at 611 W. Roosevelt Road, had sought to start operations at 7 a.m. daily, but members of the village's Liquor Control Commission balked at the proposal. Plus, it violated village code.
Class M liquor licenses, which allow gambling machines on the premises, can operate in Maywood from 11 a.m. to 11 p.m. If granted extended hours, a Class M liquor license holder can operate from 11 a.m. to 2 a.m.
Lacy's is the only Class M liquor license holder in the village.
The Liquor Control Commission had unanimously approved allowing Lacy's to extend its hours to 2 a.m., but members of the Village Board had second thoughts about the move late last month and tabled discussion of the issue. They cited concerns that an establishment selling booze until 2 a.m. would create problems for the village.
Trustee Melvin Lightford said allowing the later hours would essentially turn the bistro into a late-night liquor store.
"The neighbors don't want a liquor store along Roosevelt," Lightford said. "People will be going out into the community late at night. That's a concern. Kids go up and down that area. We don't want liquor and wine being sold at that hour. It would cause a lot of problems."
The decision to table the discussion was made in a 3-2 vote. Opposed to tabling the proposal were Trustee Ron Rivers and Mayor Edwenna Perkins. Trustees Antonio Sanchez and Kimyada Wellington were absent from the Nov. 21 meeting when the issue was discussed.
Village Attorney Michael Jurusik noted that in order to provide the bistro with hours outside of the extended hours allowed under village code, Maywood officials would have to amend their village code via ordinance.
Village trustees indicated that they would be more receptive to the facility opening earlier in the day than allowing it to operate until 2 a.m. It was unclear from discussions if trustees are willing to go along with representatives of Lacy's and grant a 7 a.m. opening time.
Willie Norfleet Jr., Maywood's village manager, will talk with owners of the establishment and bring a recommendation back to the Village Board.
A second establishment had been considering seeking a Class M liquor license in Maywood, However, residents said "no" to any additional gaming in the village in an advisory referendum last fall; and trustees took that vote to heart, opting to pass legislation to prohibit any additional Class M licenses being issued.
Jurusik said the village has taken action in the past to alter the hours of liquor sales under certain conditions.
"The council has made adjustments," the village attorney reminded village leaders. "You moved back hours to accommodate liquor for 9 a.m. brunches. Allowing Lacy's to start earlier is totally in the board's control and the establishment has a right to apply for earlier hours."
Perkins, who also serves on the Liquor Control Commission, said that, according to village code, Lacy's has the right to apply for later hours, but not earlier ones.
"The code allows them to operate until 2 a.m., with approval," Perkins said. "The Liquor Commission accepted what the village code allows."
Trustee Isiah Brandon said he is concerned that allowing the club to have extended hours would send the wrong signal to community residents, especially youth.
"My recommendation would be to allow them to open earlier versus letting them operate later," Brandon said, "but we need to let Lacy's know that we are willing to work with them."
Lightford said that neighbors of the facility have told him they do not want the facility operating that late at night.
"When people come out of there at 2 a.m., neighbors are going to be affected," Lightford said." … Traffic is going to be coming into their neighborhood at 2 a.m."
— Maywood gaming parlor may get earlier start time —-