Runners make Lincolnwood Turkey Trot a sellout in its 40th year
By Karie Agell Luc For Chronicle Media —

November 20, 2016
A sell-out and capped turnout of 2,000 participants made the 40th Lincolnwood Turkey Trot a photo finish Sunday to launch Thanksgiving week.
At Proesel Park (7055 N. Kostner Ave.) in Lincolnwood, the annual 5K, 10K and Drumstick Dash (for kiddies) on Nov. 20 attracted many revelers in race gear donning holiday bling and turkey costumes.
Disco-Inferno-inspired garb was hip, honoring 1976, the year the event began.
Headbands with plush turkeys, given out to the first 1,500 participants, also added fall color. For the 40th anniversary, pumpkin pie and cider were served as treats.
"It's really exciting," said Linda Vering of Northbrook, community outreach and marketing coordinator with the Lincolnwood Parks and Recreation Department. "People come back for Thanksgiving, they run this race with their family, we see whole families, we see corporate groups.
"Thanks for supporting us and making this another sell-out year," Vering said.
And while folks saw their breath in 26-degree partly sunny conditions, they didn't let the chill get to their wishbones.
"Running in the cold weather makes you feel strong," said one 10K runner from Indiana.
To recognize 1976 and the bicentennial year, disc jockey music from the 1970s was played back to motivate participants as they crossed the finish line.
"This race has been going on since 1976 and believe it or not, we have runners who ran in 1976," Vering said.
"This year we're shaking things up a little bit."
Vering said participants represented a range of states, including New York and Washington. Countries represented included Israel, Finland and England.
A portion of the Turkey Trot proceeds benefits the Niles Township Food Pantry which serves approximately 3,500 individuals monthly.
Non-perishable food items were collected on race day as part of a post-race drawing for a chance to win prizes.
This year's medals tastefully honored the 40th anniversary and were given to top division winners in age divisions with gender specific awards for overall and top finishers in each race.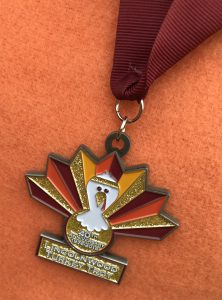 Read the current issue of the Cook County Chronicle
Free subscription to the digital edition of the Cook County Chronicle
— Runners make Lincolnwood Turkey Trot a sellout in its 40th year —