Sex trafficker gets 45 years for violently forcing minors into prostitution
By Bill Dwyer For Chronicle Media —

April 23, 2018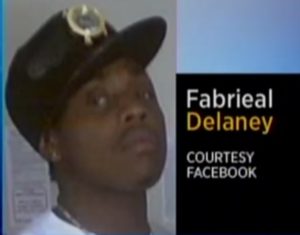 A Michigan sex trafficker who went through a total of eight defense attorneys and who represented himself despite repeated cautions by a federal judge, was sentenced to 45 years in prison Wednesday.
Judge Manish S. Shah imposed the unusually long sentence on Fabrieal Delaney April 11 in federal district court in Chicago. Delaney, of Battle Creek, Mich., and formerly of Palatine, Ill., was convicted by a jury in Sept., 2014 on all eight sex trafficking counts.
Prosecutors say he "used violence, verbal abuse and (heroin) addiction to maintain control over his victims, all of whom were 16 years old or younger when he befriended them and began grooming them for prostitution.
Delaney was also convicted of obstructing the investigation and prosecution.
The investigation into Delaney's activities was initiated in September 2010 after Illinois State Police pulled over the car he was driving near Joliet after a license check showed it was reported stolen. Police subsequently questioned all three of the young women traveling in the car with him, but did not arrest Delaney at the time.
In July 2011, Delaney transported two minor females and a young woman from Michigan to a hotel in Tinley Park to engage in prostitution at what he believed was a bachelor party at which his victim's sex acts with up to 12 men would earn $150 to $300 from each customer.
However, the "bachelor party" was a sting operation set up by federal law enforcement with the cooperation of Delaney's business partner, identified as Individual A, a woman who he had previously pimped out when she was 17 years old. The woman made a consensually recorded phone call to Delaney on July 21, asking for his help in setting up a bachelor party for that same night. He complained of the short notice, but agreed to bring the girls to the motel room in Tinley Park.
Delaney was arrested at the party and has remained in federal custody ever since.
Besides addicting his victims to heroin to assure their compliance, Delaney's oldest victim testified in court that when she resisted Delaney, he beat her, and further threatened her by holding a hot iron next to her face and hitting the steam button, causing her to wet herself and pass out from fear.
Another victim told police he had threatened to kill her if she did not cooperate.
Prosecutors say Delaney continued to attempt to coerce his victims even while incarcerated while at the Kankakee County Jail, including using threats to scare his victims into recanting statements made to the FBI and a federal grand jury.
In one hearing before original judge John W. Darrah (who died in March 2017) prosecutor Rajnath Laud said "(Delaney's) directing people to do things while he's in jail, and the fact that he can control them from jail is significant from the government's perspective."
Darrah ordered Delaney's contact with outside individuals strictly controlled.
Federal court records indicate that Delaney has been routinely uncooperative and disruptive both in court and in jail since his arrest in July, 2011, behavior that persisted right up until his sentencing hearing.
As recently as this April 3, Delaney wrote to Judge Shah, complaining that he has, "been held captive since July 2011 on a federal indictment procured by illegal acts by certain government officials."
He also complained that he informed all eight of his court appointed attorneys of his concerns about what he called a conspiracy by prosecutors, "yet none of my court appointed attorneys would present these facts to the courts."
In 2014, Judge Darrah granted Delaney's motion to defend himself only after telling him, "I strongly urge you not to try to represent yourself. Do you understand that?"
Delaney's last attorney, J. Clifford Greene, told the court he would be uncomfortable sitting at the defense table as Delaney's back-up counsel, remaining silent while watching him "make gross mistakes."
Delaney was defiant to the end, including refusing transport by U.S. Marshalls to a March 26 court hearing. That continued at his sentencing Wednesday.
"After being duly warned, Defendant persisted in disruptive conduct and was removed from the courtroom," Judge Shah noted in his sentencing memo.
Get your free subscription of the Cook County digital edition
—- Sex trafficker gets 45 years for violently forcing minors into prostitution —-