Travel messy as snow continues throughout the day, check for snowfall updates
Chronicle Media —

February 8, 2018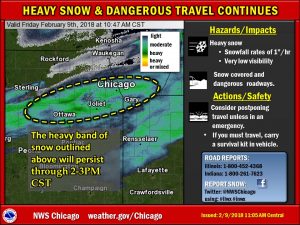 Since snow began to fall late last night, at least 4 to  6 inches has fallen across northeastern Illinois with much more on the way throughout the next 12 hours.
The National Weather Service is predicting anywhere between 8 to 14 inches of total snowfall in the region over a 24-hour period, that began Thursday evening and is not expect to end until Friday evening.
Schools and organizations anticipating the major snowfall and bad traveling conditions called off activities and classes beginning Thursday evening.
Click here for live National Weather Service snowfall updates.
Click here for complete emergency closings list for the region.
Also, for up-to-date road conditions throughout, check with the Illinois Department of Transportation.