Vehicles stolen in Chicago's Washington Heights neighborhood
Chronicle Media —

April 17, 2018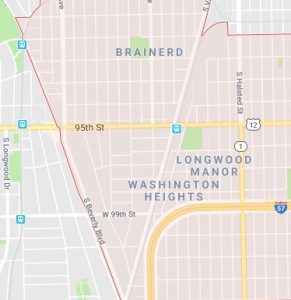 Police are urging residents of Chicago's Washington Heights neighborhood to take precautions after a string of thefts have taken place when a vehicle was left running.
Victims have been leaving their cars running to warm them up in the morning and thieves have been targeting the unattended vehicles on the 9100 to 9900 blocks of Halsted to Eggleston streets.
Seven vehicle theft have happened at:
7:35 a.m. March 19 on the 9600 block of South Parnell.
10:45 a.m. March 28 on the 9700 block of South Halsted.
7:12 a.m. April 2 on the 9900 block of South Lowe.
7 a.m. April 4 on the 9700 block of South Union
7:20 a.m. April 5 on the 9600 block of South Parnell.
7 a.m. Saturday (April 7) on the 9300 block of South Wallace.
6:55 a.m. Monday (April 9) on the 9500 block of South Parnell.
In one incident, a victim observed a man committing the theft. He was described as a black man in his early 20s, 5'8", 160 pounds, with a light complexion and wearing a gray hooded sweatshirt.
Police provided the following tips to prevent vehicle thefts and what to do if your vehicle is stolen:
Never leave your car unattended while it is running.
Secure your vehicle in a locked garage.
Consider installing an alarm system in your vehicle.
Consider installing a GPS tracking location system. Such a system can lead to a fast recovery of a stolen vehicle, police said.
Call 911 immediately and provide a detailed description of any suspicious people and any vehicle description of the offenders as well as their license plate information.
Anyone with information about any of the vehicle thefts should contact the Chicago Police Department's Bureau of Detectives for Area South at 312-747-8273.
Get your free subscription of the Cook County digital edition
— Vehicles stolen in Chicago's Washington Heights neighborhood —