Voters rush to cast early ballots early at 94 Cook County sites
By Jean Lotus Staff reporter —

March 6, 2016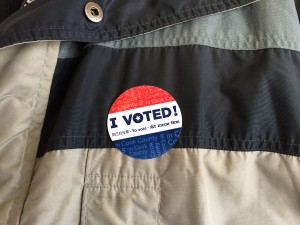 Early voting in Cook County for the March 15 primary elections started with a bang as more than 5,000 suburban Cook County residents voted the first day, more than the total number of early voters in the 2012 and 2014 elections combined, according to the Cook County Clerk's office.
The clerk's office released a list of early voting locations, including 51 sites in Chicago and 43 in suburban Cook County. The clerk's office keeps a running tab of the number of early votes cast per day at each location.
"Early voting provides voters with the ability to register and vote if they haven't done so yet," said Chicago Board of Election Commissioners Chairwoman Marisel Hernandez at the early voter kickoff event Feb. 29. Early voting extends until March 14.
Voters may also register to vote or change their registration address or name at early voting sites with two forms of ID. Last-minute voters who have never registered may participate in "grace-period registration" through March 14. Two forms of ID are required and the voter must cast their ballot the same day they register. Early voting is touch-screen only.
This primary election will be the first in which 17-year-olds who will turn 18 before the Nov. 8 presidential election can cast ballots.
These changes were recommended by the Chicago Board of Elections and the Cook County Clerk's office to expand the right to vote to as many citizens as possible, said Hernandez.
"We took these messages to our lawmakers and now these ideas are part of our election code," she said at the press conference.
In Chicago you can find early voting locations at www.chicagoelections.com. In suburban Cook, early voting sites are on the www.ccokcountyclerk.com website under the Early Voting tab.
— Voters rush to cast early ballots early at 94 Cook County sites —