DeKalb County News Briefs
Chronicle Media —

April 6, 2016
Fairdale
First anniversary of Fairdale tornado to be commemorated
A deadly tornado tore through Fairdale at 7:15 p.m. on April 9, 2015, leaving two women dead, 11 injured and the town in shambles. The tornado, estimated at a half-mile wide, packed winds up to 200 mph, cutting a clear path through the region.
A commemoration of that horrible day will be held on April 9, the first anniversary.
Fairdale: Year of New Beginnings will begin at 10:30 a.m. with a brunch for residents and first responders.
The rest of the planned events will be open to the public.
12:30-1 p.m.: Groundbreaking ceremony for Habitat for Humanity new home start (location to be announced),

1-2 p.m.: All other activities will be held in Fairdale Park; Dedication of memorial bench and plaque to honor

Jackie Klosa and Geraldine Schultz, the two women who were killed in the tornado

,

2-3:15 p.m.: Address by civic, law enforcement and church dignitaries, followed on open microphone,

3:15-3:30 p.m.: Closing remarks and distribution of gifts and kites and

3:30 p.m.: Kite-flying; cake and coffee.
Musical interlude will be performed by the vocal ensemble, Destination Unknown, with Nathan Person, Jamie Melin and others. Members of the Kirkland Fire Department, in full dress uniform, will provide a formal honor guard for the event.
Other special activities will be planned throughout the day, such as Fairdale: Recovering from the April 9, 2015 Tornado, at 7 p.m. at Olson's Funeral Chapel, 309 S. 5th St., Kirkland. Bill Nicklas and Donna Turner will present the program. A booklet, "Fairdale: Past, Present, Future," will be sold for $3 a copy.
SOMONAUK
Oldest rural congregation to celebrate 170th anniversary
Memorabilia from its Scottish origins will be part of the celebration when Somonauk United Presbyterian Church marks its 170th anniversary with an open house 1- 5 p.m. April 16.
The church is five miles north of Somonauk at Governor Beveridge Highway and Chicago Road.
Everyone is invited to enjoy a history of the congregation, tours of the 141-year-old building, a quilt display, wedding pictures and dresses of couples married in the church, memorabilia from the Scottish origins of the congregation, Scottish games, special organ and dulcimer music and anniversary cake and Scottish treats.
Somonauk United Presbyterian Church is the oldest rural church in DeKalb County. It was organized on March 18, 1846, by the Rev. R. W. French in the cabin of George Beveridge. The cabin, built in the spring of 1834 by an unknown trapper, was used as a station on the mail route between Chicago and Galena, and later as a station on the Underground Railroad. The present church was dedicated on June 24, 1875, and the membership at that time was more than 200 people.  It is the oldest rural congregation in DeKalb County.
For more information, call (815) 786-2703.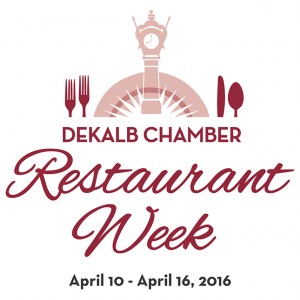 DeKALB
DeKalb restaurants in spotlight for a week
Join the DeKalb Chamber of Commerce for the inaugural DeKalb Chamber Restaurant Week, April 10-16. The week will feature specials from participating restaurants in the DeKalb and Sycamore area.
More than 25 restaurants are creating a week for local and visiting foodies to celebrate dining out locally.
Kick off the week on April 7 by attending the Taste of Home Cooking School at the Egyptian Theatre, 135 N. 2nd St., DeKalb. During this interactive two-hour event, Taste of Home's Culinary Specialist Guy Kinzling will demonstrate recipes that can easily be recreated in the home and will teach kitchen techniques and the secrets behind classic dishes.
Tickets range from $12 to $20; with VIP tickets selling for $49.50. VIP ticketholders get exclusive access to vendors in the lobby starting at 5:30 p.m., receive a behind-the-scenes tour with the Taste of Home Culinary Specialist at 6 p.m., a free Taste of Home Cookbook and the best seats in the theatre.
Doors open for all other ticket holders at 6 p.m. to visit vendor tables in the lobby. The program starts at 7:30 p.m.
All ticket holders receive a Taste of Home Cooking School Gift Bag the night of the show.
Dine at any of the participating restaurants and ask for the Restaurant Week Special. A sampling of the participating restaurants include: Acquaviva Winery, 47W614 Route 38, Maple Park; Ellwood Steak & Fish House, 2219 Sycamore Road, DeKalb; Fushi Yami Hibachi & Sushi, 822 W. Lincoln Hwy., DeKalb; Jamrah, 2672 DeKalb Ave., Sycamore; Mikimoto Japanese Steak House, 826 W. Lincoln Hwy., DeKalb; Rosita's Mexican Restaurant, 624 E. Lincoln Hwy., DeKalb; Sycamore Tom & Jerry's, 1670 DeKalb Ave., Sycamore; and Vinny's Pizza, 221 W. Lincoln Hwy., DeKalb.
For a complete list of restaurants and more information about Restaurant Week, go to the DeKalb Chamber of Commerce website, www.dekalb.org, or call the chamber at (815) 756-6306.

–DeKalb County News Briefs–