Tourism gives a welcome lift to struggling Illinois economy
By Jack McCarthy Chronicle Media —

May 21, 2017
The Illinois economy may be struggling and a solution to an ongoing budget stalemate remains elusive, but visitors still love to come to Illinois, flocking here in record numbers and providing a welcome $35 billion boost in a sector increasingly important to the state's economy.
"People still want to travel and take a vacation and the numbers speak for themselves," said Cory Jobe, director of the Illinois Department of Tourism. "We're very accessible, it's an easy state to get around."
Jobe wrapped up a statewide promotional swing earlier this month with an appearance at DeKalb's landmark Egyptian Theater, itself a noted regional visitors' attraction.
The visit was sponsored by the DeKalb County Convention and Visitors Bureau in connection with the national Travel and Tourism Week observed earlier this month.
Jobe's recent tour was something of a victory lap as 2016 tourism figures were announced, including:
110 million domestic visitors to the state, including a 1 million increase from 2015;
a 2.7 percent boost in year-over-year growth in visitors to Chicago, higher than the U.S. domestic travel growth (2.4 percent);
302,000 tourism-related jobs in Illinois, a 10,000 job increase from 2015; and
83 percent of 2016 visitors came for leisure purposes while 17 percent came for business.
Illinois visitors have increased by 19 million over the past 10 years. State officials said that for every $1 invested in tourism in the state there's a $9 payback in economic impact.
"We create revenue for the state," Jobe said. If you look on the very small marketing budget we had in 2016, the visitor expenditure created $2.6 billion in local and state tax revenues. That's up $105 million over the previous year."
Illinois tourism is not confined to Chicago.
"This is a state that's 50-50," Jobe said. "Visitor expenditure is 55 percent downstate, 45 percent in Chicago/Cook. Hotel/motel tax collection is about 60 percent in Chicago/Cook and about 42 percent downstate.
"So it's equally balanced and that's what I really like about it. We have this world-class city in Chicago, but you can get out and experience the real America all throughout the state."
Tourism officials announced an expanded "Illinois Made" initiative (enjoyillinois.con/illinoismade). to drive tourism to unique artisans and small businesses around the state.
Separate emphasis is being placed on food, farms and fun on old U.S. Route 66 from Chicago to Alton; outdoor adventures statewide; diverse arts and hangouts in Chicago neighborhoods; plus a focus on downstate wineries, craft brewers and coffee spots.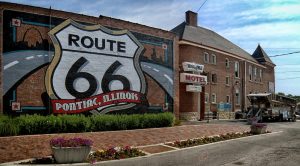 "From coffee roasters and beer brewers to unique hat makers, these vibrant, innovative small business owners are drawing visitors from Illinois and around the world, creating jobs and growing out state's economy," Jobe said.
The state tourism event gave the Egyptian Theater an opportunity to show off its downtown facility and the impact it has on the local economy.
An Egyptian fact sheet said the theater generated more than $2 million in direct economic impact on the community and drew 30,000 patrons from 26 states and 41 Illinois counties for the season ending in 2016.
The Egyptian hosted a total of 156 events, including 75 live events, 25 film screenings, 62 theatre tours and 39 private events.
The facility opened on Dec. 10, 1929 and by the 1930s was among more than 100 theaters across the country to decorate itself in an Egyptian style. The architect, Elmer F. Behrns, designed nearly a dozen other art deco theaters across northern Illinois, including St. Charles' Arcada.
It was placed on the National Register of Historic Places in 1978.
More information on the Egyptian Theater is at www.egyptiantheatre.org.
— Tourism gives a welcome lift to struggling Illinois economy —