After recent declines, childhood obesity rates hold steady in DuPage
By Cathy Janek for Chronicle Media —

April 13, 2018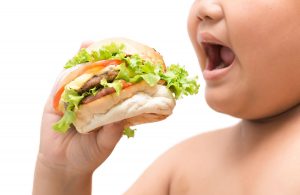 DuPage County may be ranked as Illinois' healthiest county but childhood obesity remains a concern.
More than one-in-seven — 14.8 percent — of DuPage kids had a body mass index that measured in the obesity range, a percentage up slightly last year after several years of declines.
Since 2011, the DuPage County Health Department has tracked obesity rates of children in kindergarten, sixth and ninth grades.
Data showed the percentage of obese children ranged from a high of 15.7 percent in 2011 to a low of 14.4 percent in both 2013-14 and 2015-16.
Furthermore, 44 percent of students with obesity also had elevated blood pressure.
Obesity is defined as a body mass index (BMI) any or above the 95th percentile for children and teens of the same age and sex. For adults, a BMI of 30.0 and above is considered obese.
Healthy lifestyles are part of an Impact DuPage program that includes affordable housing, mental health, access to health services, and substance abuse, according to Mila Tsagalis, Director, Community Initiatives with the DuPage County Health Department.
"Childhood obesity has been designated as a countywide priority," Dr. Rashmi Chugh, Medical Officer with the DuPage County Health Department said. "We want to engage every member of the community as a participant," she  said. "We want to help make more sustainable change in the community and county level."
Utilizing school health exam forms that parents are required to turn into public schools, DuPage County Health Department complied data of nearly 31,000 children in 2017.
Based on the data, males had a higher obesity rate of 16.5 percent compared to female students (13.1 percent).
Obesity rates also varied based on location within the county.  The county's far northeastern corner (Wood Dale, Bensenville, Addison, Villa Park, Elmhurst and Oakbrook Terrace) had the highest obesity rate of 18.5%.
In comparison, the far southwestern corner (Aurora, Naperville and Lisle) had the lowest percentage of obesity at 10.8%.
Obesity is defined as a body mass index (BMI) at or above the 95th percentile for children and teens of the same age and sex. For adults, a BMI of 30.0 and above is obese.
The Health Department said obesity during childhood and adolescence can lead to health problems such as high blood pressure, heart disease, diabetes, fatty liver disease, joint problems and asthma later in life.
Obesity has also been associated with lower academic achievement, depression, behavioral problems, low self-esteem, and lower quality of life in children.
"We don't want this information to be static information," Tsagalis said.
Community groups throughout DuPage have used the data to implement new programs or cultivate new ideas.
"The report serves to provide the data, but it also provides resources and actionable things that people can take away from it," Tsagalis said. "Having water continuously available to students, increasing physical activity, and making food available that is nutritious are several steps taken in recent years in DuPage County day care centers and schools," she added, "We hope that continues into the home."
In West Chicago, nearly one-quarter of children are considered obese and nearly half are considered overweight based on the 2015 to 2016 data. Organizations like Health West Chicago have formed with a goal to improve their overall health.
Formed three years ago, the organization is a collaboration of local community groups that's on a mission to make the "healthy choice the easy choice," said Carly Smitherman, program administrator at Healthy West Chicago.
The organization offers free programming that includes cooking classes, nutrition education, and physical activity.
"We have a lot of low income families in our community—one reason we strive to make our programming affordable and accessible," she said.
On Saturdays and Sunday mornings, the mayor of West Chicago leads residents in a walk around the town, she added.
"We also are trying to increase the number of community gardens which would help access food for our low income families," Smitherman said.
"We are starting with young children to create great habits that we hope will be long lasting," she added.
 The County also provides list of items parents can do:
Engage in your child's school wellness committee.

Plan meals for the week.

Serve lots of fruits, vegetables, and whole-grain foods.

Eat meals together as a family.

Serve reasonably-sized portions.

Drink lots of water and cut down on drinks with sugar.

Be physically active daily as a family.

Cut down on screen time.
—After recent declines, childhood obesity rates hold steady in DuPage–