Metea Valley grad keeps holiday tradition alive with Naperville lights show
December 22, 2019
Northern Illinois University freshman Matt Baker says he simply likes to bring "a bit of magic" to the holidays.
His bit of magic involves 85,000 lights, all animated to music on a cul-de-sac in his Naperville neighborhood. For the past eight years, 19-year-old Baker has been the force behind the Manchester Court Light Show.
Yes, that means he's been at it since the age of 11.
It's estimated the holiday attraction draws up to 40,000 viewers throughout the Christmas season, with visitors donating to charities of Baker's choice every year.
"I guess I've just always loved lights. Most people say it means a lot to them, so that keeps me going," said Baker, a 2019 graduate of Metea Valley High School in Aurora now majoring in business management at NIU.
He already runs two businesses—Manchester Light's Holiday Light Shows, which also includes displays in Aurora and Grayslake, and Brookdale Landscaping & Lighting, based in Naperville.
Baker started the landscaping company to help fund the light show. The business quickly grew as he advanced from pushing his father's old mower around his neighbors' yards to managing a lawn and maintenance team to serve customers throughout the DuPage County area.
The business became so successful it had to be incorporated. Because Baker was only 16 at the time, it initially was incorporated under his father's name. It officially became his this year.
"I worked like crazy through high school and was able to just keep growing the light show into what it is now," he said. "I never thought it'd ever be this big."
Because Baker worked so many hours in high school, he said, his grades slipped, and he wasn't sure he'd ever go to college.
He was admitted through NIU's CHANCE program, which identifies capable students who do not meet traditional admission requirements and provides them with the resources they need to succeed.
"I was so focused on building the company and not my academics," Baker said. "CHANCE is the reason I'm here. They looked at me as an individual, at what I've done outside of school."
Now living in NIU's Neptune West residence hall, he travelled to Naperville every weekend since October to prepare his light show for its Dec. 1 opening. Bringing in new twists annually, he starts planning at least 10 months in advance of each show. It's on his mind year-round.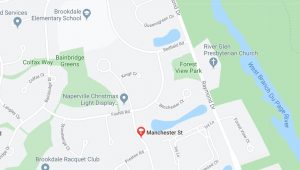 This year's show will run through Jan. 1 on Manchester Street in Naperville's Brookdale subdivision. Donations will go to two charities, Corey's Goal and Alive Center, both based in Naperville.
Corey's Goal was created in memory of Corey Patrick Walgren, who committed suicide in 2017. A friend of the Walgren family, Baker decorates the family's yard every holiday in memory of Corey and in honor the charity.
He also serves on the advisory board of Alive Center, a teen center offering free drop-in hours, programs, classes and events designed to build confidence in teens.
Baker feels fortunate to be able to pursue his passions and has always sought ways to give back to his community.
Among those passions is the desire to earn a college degree, although he's not quite sure yet where he wants that degree to take him.
"I kind of want to do a little bit of everything. That's the problem," he said. "I worked through all of high school so I didn't really get the high school experience. I want the college experience, and I just want to learn.
"I feel like I wouldn't be complete without a college degree."
Wherever he ends up, he said he never intends to stop brightening the holidays with his shows.
"I could watch them all day," he said.
For more information and directors to the Naperville show visit www.manchesterlights.com.
Corey's Goal information can be found at www.coreysgoal.org while Alive Center information can be found at www.alivenaperville.com.
—Northern Illinois University