Time to celebrate the Fourth with weekend festivals, fireworks
Chronicle Media —

June 29, 2018
Lisle's annual Eyes to the Skies festival is gearing up for another exciting lift-off with the help of loyal volunteers.
It takes hundreds of them to make the hot-air balloon festival run smoothly and safely for thousands of visitors. Each volunteer can choose the shifts and category that works best for them through a sign-up on their website.
Volunteering comes with some pretty nice perks including a free t-shirt, meal voucher for the shift and free admission to the fest.
Since 2009, Eyes to the Skies has raised more than $900,000 for local charities and attendance this year will lift that even higher.
A volunteer committee also works year-round to plan the event, which runs from June 29-July 1 at Lisle Community Park, 1825 Short St.
Katie Palombit serves as Marketing Chair for Eyes to the Skies and explained how the volunteers raise money just by attending their shift:
"Without the help of our volunteers, we really wouldn't be able to put on the festival," she said. "Every volunteer hour that they contribute goes towards the six local charities."
The volunteers can choose which of the local charities they would like their hours, which are matched to a set donation, to be donated to.
"I just think that it's such a good cause. It goes back to different charities and it's a family-fun festival that's been around for 36 years," Palombit said.
Hot air balloons will rise each day with launch times ranging from 6 a.m. to 9:45 p.m. for festival-goers to enjoy. There will also be live music, a carnival, fireworks and even an area for the kids.
To learn more information, buy tickets or sign up to volunteer, visit eyestotheskies.org.
A few miles away, the Exchange Club of Naperville hosts Ribfest from July 4-7, including fireworks on July 4 and an entertainment lineup featuring Pitbull, Jake Owen, Jordan Davis, Melissa Etheridge and Steven Tyler and the Loving Mary Band.
Many other regional Independence Day events are stand-alone fireworks shows, others combine community festivals and parades.
JULY 1-4
Kirkland 4th of July Celebration. The DeKalb County holiday celebration marks 70 years and will include live entertainment, carnival, bingo, flea market, food, parade, car and tractor show, bags tournament, beer garden, water fights and a raffle. It all wraps up with fireworks on July 4 at dusk. Information: visit kirkland4thofjuly.com or kirklandlions.org.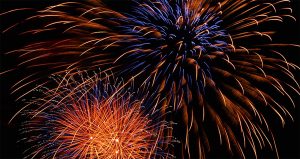 JULY 3
Burlington Independence Day celebration, 5:30 p.m., Burlington Park. Features local food vendors, music, a ceremony honoring veterans and featuring an evening fireworks display. The Burlington Fireworks Committee is a nonprofit organization funded independently by donations.
North Aurora fireworks, 7 p.m., Riverfront Park. Activities begin with musical performances, followed by fireworks at 9:30 p.m. The Fox River trail will be closed between State Street and the Red Oak Nature Center.
Taste of Oak Brook, Polo Grounds on 31st St. between Spring and York Roads. Oak Brook restaurants will be represented at the event, which concludes with fireworks at dusk. Free admission, $10 to park. Rain date is July 4.
Roselle Independence Day celebration. Fireworks return to the community with a gathering at Lake Park High School west campus, 500 W. Bryn Mawr Ave. Activities include a family-friendly Party in the Park, and musical entertainment at 7 p.m. followed by fireworks at 9:30 p.m.
Wheaton fireworks are scheduled for July 3 at Graf Park with rides, concessions, and DJ entertainment in the afternoon. Fireworks are scheduled to start after 9 p.m. Festivities continue July 4 with an annual downtown parade starting at 10 a.m.
JULY 4
Aurora's Independence Day Celebration, downtown Aurora, 23 E. Galena Blvd., 10 a.m.-10 p.m. A monumental parade in the morning is followed by family-friendly fun during the day and for fireworks in the evening. The parade steps off at 10 a.m. This year's theme is "Party on Aurora" in celebration of the 25th anniversary of Wayne's World. Family activities and fireworks in two locations including RiverEdge Park, 360 N. Broadway Ave., which also offers food along with a view of the fireworks at Aurora's premier outdoor concert venue. Gates open at 3pm. At McCullough Park, Illinois Ave. and Lake St., there will also be food vendors and free fun with inflatables and music. More entertainment from 7-9:15 pm. Information: 630-256-3370.
Aurora Historical Society's Independence Day Celebration, William Tanner House, 305 Cedar St., Aurora, 11 a.m.-2 p.m., free.  Event includes free entertainment on the lawn, a picnic, petting zoo, magician, games, crafts, a pie-eating contest, music by Hudson Crossing and of course, the national bell-ringing ceremony at 1 p.m. Information: 630-906-0650.
Batavia's 4th of July Sky Concert, Mooseheart Field / Engstrom Park, 326 Millview Dr., Batavia, 9 p.m. Batavia hosts one of the most celebrated fireworks productions in the western suburbs with a 50-year history of being produced and paid for by local citizens. The event starts with food vendors at 5 p.m. and entertainment at 6 and 8:15 p.m.
Bensenville LibertyFest features a parade, followed by games, events, music and food at Redmond Park. LibertyFest is featuring Taste of Towns with some of the best menu offerings from the area being served all day long.
DeKalb Fireworks at Hopkins Park. site opens at 2 p.m. with food booths or picnicking. Fireworks at dusk. Information: dekalbparkdistrict.com
Elgin and Grand Victoria Casino Fourth of July Celebrations, parade at 9 a.m. starting at Slade and Douglas. Events continue at Festival Park with Kool and the Gang at 6 p.m. and fireworks immediately after the concert at Festival Park. Tickets available at gvctickets.com.
Lombard fireworks, 9:30 p.m., Madison Meadow Park. Limited street parking is available. Several Park District lots will be open to the public, but will fill up quickly. Visitors are encouraged to take advantage of the free shuttle service
Oswego fireworks, 9 p.m., launched from Prairie Point Park. Parking available at Prairie Point Park, Oswego High School, the Village of Oswego Public Works Facility and East View Academy. Rain Date is Thursday, July 5.
Rockford 4th of July parade and Holiday Festival of Lights, 7 p.m. Downtown parade kicks off activities with more than 50 entries. Fireworks follow at Davis Park at 9:30 p.m. Park opens at 5 p.m. Admission: $6.
St. Charles July 4th Celebration, Pottawatomie Park. Entertainment starts at 6 p.m., fireworks after dark. Best views from Pottawatomie Park, Ferson Creek Park and downtown St. Charles. Information: 630-513-6200 or visit www.stcparks.org.
Shabbona Hometown Fourth of July. A full weekend of events includes tents and booths of local merchants for many types of arts and crafts plus carnival rides, moon walks, inflatable slides, magic shows, music and games. A parade is set for noon, with ice cream eating contest and pork chop dinner later in the Day. Fireworks at dusk at Shabbona Lake.
Sleepy Hollow Fourth of July celebration, 8 a.m.-evening. Day-long events include a fun run, fishing derby, car show, parade at 11:15 a.m., food and entertainment and fireworks at 9:15 p.m. Information:  www.sleepyhollowil.org/
South Elgin parade, 10 a.m. This old-fashioned, flag-waving parade through the heart of the community honors our nation's independence and the veterans who have fought to protect it.
Wheaton Fourth of July parade, 10 a.m. A long-standing tradition that draws thousands and features more than 90 entries. This year's downtown parade salutes American heroes such as military (active or veterans), police, firefighters and first responders.
Yorkville 4th of July celebration, Town Square Park, 301 N. Bridge St. An Independence Day Parade steps off on Game Farm Road and proceeds to Somonauk Street, King Street, West Main Street, Church Street and ends at the water tower. Town Square activities begin immediately after the parade and will include children's foot races, rides, water fights, food vendors and a performance by the Yorkville Community Band. Information: 630-553-4357.
JULY 4-7
Naperville's Ribfest, various times and admission prices. Hosted by the Exchange Club of Naperville, Ribfest is a concert and festival featuring internationally celebrated musical artists, family activities and carnival and award-winning rib vendors from across the country. This year's lineup includes Pitbull, Jake Owen, Jordan Davis, Melissa Etheridge, Steven Tyler and the Loving Mary Band. Complete details at ribfest.net.  Free access to July 4 fireworks provided only at the South Park entrance to Knoch Park, just north of Osler and West and opens at 5 p.m. Information: www.ribfest.net
—   Time to celebrate the Fourth with festivals, fireworks —-