Fun and free inquiry as Great Burr Oak Science club digs into varied topics
Elise Zwicky for Chronicle Media —

October 4, 2017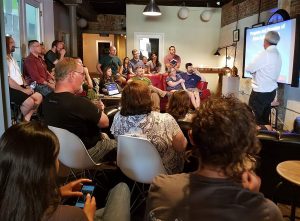 Peoria County Coroner Jamie Harwood is a frequent speaker at local clubs and organizations, but his presentation to the Great Burr Oak Science Club on a recent Saturday night was unique.
"This is probably the most unconventional setting I have ever spoken in but probably the most comfortable," Harwood said of the club's meeting at the Ear in the Envelope art studio in the basement of 820 SW Adams in Peoria.
About 40 people attended the meeting, calling out questions throughout Harwood's talk, which was titled "No One Gets Out Alive (Sorry But It's True)."
"These are the most questions any group has ever asked me," Harwood said with a grin after the presentation.
Founded in 2013, the Great Burr Oak Science Club purposely meets in a relaxed, open-forum setting as a way to make science fun and accessible to the public. The meetings are free and open to all, though donations are accepted.
"One of the big reasons we wanted to start this club (for adults) is because a lot of the science you find, either in a museum or in the science section of your local bookstore, is geared toward children," said Kela Galletti, one of the club's founders. "Also, there's so much misinformation on the internet and so many ridiculous things billed as science that put science in a less serious light."
The club initially met every month at the former Speakeasy in downtown Pekin. That venue closed last year while the club was taking a hiatus, so the search was on for a new place to meet when the club resumed earlier this year.
"We had some opportunities at venues where it would be more like a classroom or a board room situation, but I wanted a more relaxed setting to make science more approachable," Galletti said.
The Ear in the Envelope studio lets the club meet there at no charge, and the speakers volunteer their time. Donations are accepted to give speakers who must travel a gasoline gift card.
The club's name is taken from a great burr oak tree in Peoria on High street that is estimated to be between 500 and 600 years old. "That tree is actually eight feet wider than any of the other great burr oaks that are known, so it's kind of like a local wonder of science," Galletti said.
The club no longer meets monthly but gets together when good speakers can be scheduled.
"We've delved into some pretty heavy topics, but our presenters are always good about trying to make it accessible to everyone of all educational levels," Galletti said. "We want to encourage people to have an interest in science and to see how important it is in their daily life."
Average attendance at the meetings is about 40, with half being regulars and half being newcomers. The crowd consists of mostly young adults in their 20s to early 30s, but also includes older people and even a few children who come with their parents.
The topic that attracted the biggest crowd so far was a presentation on beekeeping that was attended by 86 people. "We did not expect that. It's been interesting to see which topics interest people," Galletti said.
Other topics have included genomes, insects, robotics, medicinal herbs, the neurobiology of human relationships, forensic science and how to survive a zombie apocalypse.
"One of my personal favorite presenters was Dr. Craig Cady, a Bradley professor and the director of Bradley's stem cell research lab. I was blown away by the scope of research that's being done right here in Peoria, and he's so passionate about his work. He moved me to tears," Galletti said.
She acknowledged that finding speakers can be challenging. "That's why we went away from the rigid monthly schedule that we had previously where I was trying to get someone the third Saturday of each month. That was difficult," she said.
Most meetings last about 90 minutes and begin with an open discussion about science-related current events. At the recent meeting, the group discussed the Cassini spacecraft that purposely plunged into Saturn on Sept. 15 after a 13-year mission; an ancient baboon skull found in an African desert; and the solar eclipse that occurred Aug. 21.
Anne Dickison of Peoria attended the science club for the first time after hearing about it from her neighbor.
"I'm a retired physician and at one point in my career I moonlit as a forensic photographer for the Office of Medical Investigations for the University of New Mexico. So the science club certainly has my attention," she said.
Bill McKay, a chemical engineer who's been involved with the club since its beginning, likened the meetings to a live version of TED talks.
"The whole idea in this setting is for it to not be intimidating, so I think that's just a nice way to learn," he said. "It's amazing how much expertise there is in our community."
A certified forensic nurse who was elected coroner in 2016, Harwood said he wasn't familiar with the science club prior to being asked to speak but liked "the eclectic feel and the casualness of the meeting."
No other meetings are currently planned, but Galletti said the club will likely meet in November. A Facebook survey earlier this year spearheaded by another club founder, Krislyn Hightower, showed people are interested in movie screenings and field trips, in addition to public speakers. Field trips may be planned to the Jump Trading Simulation and Education Center and the coroner's office later this year or in 2018.
The club often pulls speakers from the Peoria Academy of Science and encourages people to check out their groups, including a geology club and an astronomical society.
For more information about the Great Burr Oak Science Club, visit the club's Facebook page or website at www.thegreatburroakscienceclub.com. For more information about the Peoria Academy of Science, visit the website www.peoriaacademyofscience.org.
–Fun and free inquiry as Great Burr Oak Science club digs into varied topics–