Aurora, Mayor Tom Weisner share farewells as he steps down
By Jack McCarthy Chronicle Media —

November 1, 2016
If an individual's impact can be measured by the number of his friends then Tom Weisner is rich indeed.
The three-term Aurora mayor, who stepped down from office this week, was saluted in a three-plus hour reception last week at the Paramount Theater.
"While I'm getting these accolades tonight, the reality is the people in the room right now and the people who have already gone made my job so easy," Weisner said in an emotional farewell. "They're always involved in making this community a better place. No matter the problem, there have always been people willing to step up and move the city forward.
Citing health concerns, Weisner announced last year that he would not run for a fourth term and said in August he would step down months before the end of his current term.
"I have been dealing with cancer most of my three terms as mayor," he said in a statement. "I have recently begun to feel that I cannot continue to perform at the level I expect of myself and I do not wish to remain as mayor if I can't."
A steady stream representing a cross-section of Aurora citizens, business and cultural leaders, city employees and elected officials snaked through a receiving line to greet Weisner and his wife.
Periodically the line would halt and Weisner would climb a staircase in the Paramount lobby for a series of presentations from admirers.
In the theater foyer were nine tables filled with photos, awards and memorabilia from Weisner's tenure including formal plaques and certificates to thank you notes from kids written in crayon on construction paper.
Walls featured oversized backlit photos of Weisner from various stages in his life, including a pose with President Barack Obama.
Ald. Robert J. O'Connor takes over as acting mayor and five candidates have announced intentions to run to succeed Weisner in next year's elections.
That next mayor will have a tough act to follow.
Weisner was first elected in 2005, reelected in 2009 and ran unopposed in 2013. In nearly 12 years, he presided over the steady transformation and growth of an ethnically diverse Fox River city that's now Illinois's second-largest with more than 200,000 residents.
Aurora has seen dramatic reductions in crime during Weisner's watch as Aurora largely erased a reputation as a gang-infested place to be avoided.
In 2012 Aurora had no homicides while 10 years earlier it had 25. In 2015 there were five murders and two through six months in 2016.
Most other crime rates are down in the first six months of 2016 compared to the same period in 2015, according to Aurora Police Department data.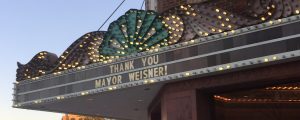 Weisner also effectively managed Aurora's finances and maintained strong bond ratings while guiding the city through a severe recession that forced layoffs and service cuts.
But there were also economic good times that saw hundreds of new homes built and new commercial and corporate concert came to town.
Weisner was also a builder and helped shepherd the construction of a new downtown Waubonsee College building, a downtown Aurora Public Library, a science and technology school at Aurora University and the popular RiverEdge park and entertainment complex that anchored a core riverfront revival.
Downtown Aurora, anchored by the Paramount Theater and Hollywood Casino and served by several bars and restaurants, became an increasingly popular entertainment destination.
Weisner also pushed for less unglamorous yet vital water and sewer infrastructure work, a series of bridge replacements, miles of street repairs and repaving and a high-speed fiber optic cable linkup designed to serve government, business, healthcare concerns and non-profits. He's also been a staunch backer of environmentally sustainable practices.
There have been some disappointments. There's been the occasional uptick in gang-related crime and downtown still features too many empty storefronts.
But as Weisner takes his leave, the city is in better shape than he found it.
—  Aurora, Mayor Tom Weisner share farewells as he steps down —