Aurora voters shut down election commission
Chronicle Media —

March 21, 2018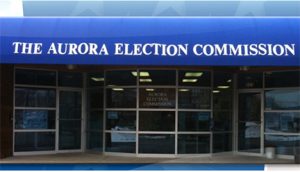 Voters decided to shut down the 74-year-old Aurora Election Commission via a referendum in Tuesday's primary.
More than 56 percent of city voters approved the commission's dissolution, an action backed by both municipal and county elected officials.
The Kane County Clerk's official will take over election responsibilities for the county portions of the city. County Clerk Jack Cunningham said he would open a satellite office in Aurora to accommodate city voters living in Kane County.
The commission, created in 1934, was responsible for election operations within the city limits of Aurora within the counties of Kane, Kendall, and Will.
Cunningham, meanwhile, earned a chance for what he said would be his final term as county clerk. With combined results from Aurora and the balance of Kane County, he beat back a challenge from former aide Stan Bond, with 17,427 Republican primary votes while Bond had 10,555.
Cunningham, recovering from treatment for colon cancer, will face Democratic nominee Nicholas G. "Nico" Jimenez in November's general election. Jimenez was unopposed for the Democratic nod.
Primary voters also set the stage for a head-to-head November contest between incumbent Sheriff Donald Kramer, a Republican, and Democrat Ron Hain, a sergeant with the department.
Kramer, seeking a second full term in office, beat challenger Kevin Tindale by 18 percentage points. Hain topped Willie M. Mayes, a 25-year sheriff's department employee, by 11 percentage points to win the Democratic primary.
Two County Board incumbents were defeated, one narrowly.
On the Republican ballot, Steve Weber beat incumbent Philip Lewis 1,058 to 592 in the 13th District contest. On the Democratic side, Anita Marie Lewis appears to have defeated County Board District 3 incumbent Donald Ishmael by just three votes — 264 to 261, according to the Aurora Election Commission website.