Fox River increasingly home to fish, wildlife and draw for people
By Cathy Janek for Chronicle Media —

October 31, 2018
Woodpeckers, sandhill cranes and bald eagles increasingly call the Fox River and its watershed home,  thanks in large part to local groups working together to preserve and defend this unique habitat.
People are also being drawn to the "spectacular" west suburban waterway for recreational use.
Brook McDonald, president and CEO of the Naperville-based Conservation Foundation, recently told students and community stakeholders that he hopes they will also "fall in love" with the Fox.
McDonald and his family relocated to Plano more than 20 years ago to be closer to the river and enjoy canoeing and kayaking, something he still does nearly every weekend—even in winter.
McDonald also has many memories of fishing on the river with his now-grown children.
"It is a very personal thing for me and my family," he said.
The Conservation Foundation, a non-profit land and river protection organization, is part of the Fox River Ecosystem Partnership, a group comprised of local stakeholders who seek to  preserve, protect and enhance the Fox River watershed.
The group has joined with the Southeast Wisconsin Fox River Partnership and the Village of Waterford, Wis., to pursue the designation of all or parts of the Fox River in Wisconsin and Illinois as a National Water Trail through the National Park Service's National Water Trail System.
Along with recreational use, many communities such as Aurora, Elgin and St. Charles have embraced the river and use it as a "quality of life lure" and to promote "economic development," McDonald said.
"Would they embrace it if the water was polluted?" he asked the crowd.
Threats remain, including deteriorating dams, storm run-off and water quality.
Nineteen dams still exist on the Fox, including 16 in Illinois. With these dams come a myriad of problems.
"These old dams are not safe and kill people," he said.
But removing dams is a complicated issue.
"One of the most cost-effectives ways to fix our rivers is to figure out ways to get rid of dams," McDonald  said.  "Some dams are simply deteriorating so if we wait long enough our rivers will be free flowing again."
In Yorkville, an old dam was replaced with a new stair-step system.
In an "interesting compromise, a white water kayak course was constructed that also allowed for fish to swim around the dam and move upstream. The course also spurred economic development in the area," McDonald said.
Due to the low dissolved oxygen behind dams, not much can live there, McDonald said. "The dams (also) impede the upstream migration of fish and other aquatic wildlife," he added.
Storm water run-off from the streets of urban and suburban areas also threaten the river's water quality due to contaminates such as chlorates from salt used on roads during the winter,
"We have covered the landscape with so much pavement and other impermeable surfaces that water drains into our streams really fast instead of soaking into the ground and moving to the streams in a slow, metered fashion," McDonald said. "The levels going up and down causes erosion."
The Fox is the third-largest Illinois River tributary, beginning with a trickle in Menomonee Falls, Wis., and flows more than 100 miles south/southwest to Ottawa where it joins the Illinois River.
The river and surrounding watershed is home to 96 species of fish and 32 species of fresh water mussels and the surrounding watershed container 250 species of birds, 21 species of reptiles and 14 species of amphibians.
McDonald said the watershed also includes 14,000 plant species—77 which are endangered and 25 which are on a threatened list.
Forest preserves along the river's path have "done a good job of preserving the land along the watershed," he said.
LaSalle County, where no forest preserve district exists, is working with a group of local stakeholders as part of its Fox Valley Initiative, The Conservation Foundation has stepped in to purchase land surrounding the river in the lower quadrant.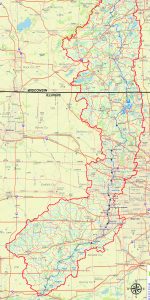 In 2013, it purchased the Dayton Bluffs, a 253-acre natural area preserve which is managed by the City of Ottawa.
Over the past 46 years in existence, McDonald said, the Conservation Foundation has worked to "preserve about 35,000 acres of land."
To illustrate the beauty of the river, the Conservation Foundation's artist-in-residence Joel Sheesley spent two years traveling up and down the river painting the more 70 works now on display at AU's Schingoethe Center  through Dec. 14.
The paintings "are a great way to see the Fox River through Joel's artwork and maybe see it in a way you haven't looked at it before," McDonald said.