Man dead following shoot out with Aurora police
By Erika Wurst For Chronicle Media —

October 5, 2016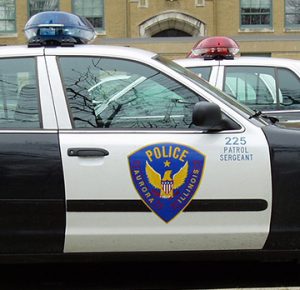 After fleeing from a traffic stop and engaging in a shoot-out with police, an 18-year-old Aurora man allegedly shot himself in the head on Tuesday evening as officers closed in on him, Aurora police said.
The man, who has not been identified by police, was pronounced dead around 9 a.m. Wednesday morning at a suburban Chicago hospital where he was undergoing treatment.
According to Aurora Police Department spokesman Dan Ferrelli, the incident began around 8:41 p.m. Tuesday when a member of the department's Community Oriented Policing Unit pulled over a 2003 Chevrolet Impala near the intersection of North Avenue and Fourth Street.
When the officer approached the vehicle, which was driven by a 37-year-old woman, he allegedly smelled marijuana coming from inside and asked the 18-year-old man, who was a passenger inside the car, to step outside.
Ferrelli said that as the officer was talking with the man, the man fled on foot westbound on Fourth and the officer ran after him.
During the foot-chase, the man allegedly turned toward the officer, showing a weapon, and fired more than one shot in the officer's direction, according to police. The officer returned fire, however, police did not say how many times. Nothing and no one was struck during the shoot-out, Ferrelli said.
A short time later, responding officers found the man apparently trying to get into a home in the 200 block of S. LaSalle Street.
Ferrelli said that when officers confronted him, the man produced a handgun and shot himself in the head. A gun was recovered at the scene.
Aurora Fire Department Paramedics transported the man to an Aurora hospital for initial treatment. He was then airlifted to a suburban hospital where he was pronounced dead at approximately 9 a.m. Wednesday.
There were no other injuries and nothing was apparently hit by any gunfire during the incident, police said.
The driver of the Impala was an acquaintance of the 18-year-old shooting victim. She was released without charges after fully cooperating with the initial investigation, police said.
The name of the officer involved was not released with the only information provided being the officer is 37-years-old and a nine-year veteran of the Aurora Police Department. The officer is assigned to the Community Oriented Policing Unit.
Per standard Aurora Police policies, an internal investigation into the incident has been initiated and the officer has been placed on modified duty.
The independent investigation into the officer involved shooting is being conducted by the Illinois State Police.
— Man dead following shoot out with Aurora police —