Suburban regional hurricane efforts helping others 'who are hurting'
Cathy Janek for Chronicle Media —

September 13, 2017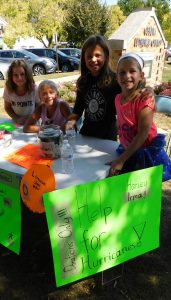 Northern Illinois may not be in the path of a hurricane, but area residents have reached into their pockets, closets and pantries to lend a helping hand to those who are.
Responding to a record-breaking hurricane season, relief organizations such as the Salvation Army, the Red Cross and grassroots efforts are collecting items and coordinating deliveries to needy individuals in affected areas.
The Naperville Jaycees marched in this year's Labor Day Parade armed with large white buckets collecting loose change and dollar bills from parade goers who lined the streets of downtown Naperville to raise money for the Salvation Army and the Red Cross.
Bettye Wherli, a longtime resident of Naperville who marched in the parade with the Exchange Club of Naperville said, "Naperville is just trying to do its part."
"That is what people do, they help each other when they are hurting," she added.
Holly Baker with the American Red Cross of Chicago & Northern Illinois said, the Red Cross is equipped to respond to very large and multiple disasters like Hurricane Harvey and Hurricane Irma.
"We are putting supplies and people in place over the past several days to prepare for Hurricane Irma," she added.
Already he organization has provided shelter for approximately 35,000 people who sought refuge at 284 Red Cross and partner shelters across Texas.
With 2,000 Red Cross volunteers on the ground in Texas, Baker said, at least 30 came from the Northern Illinois and Chicagoland area.
The organization is prepared to shelter up to 120,000 in Florida, Baker added. "Those in need will find a place to sleep, a warm meal, and a shoulder to lean on."
"We also will be there to help with the recovery process," she added.
Baker said, "Financial donations are the most immediate and direct way to help those who have been affected by Hurricane Harvey."
"Ninety-one cents of every dollar donated to the Red Cross goes directly to help the people affected," she added.
For the last week, Plainfield's Kim Grispo has been collecting packages of underwear which will be shipped to a Houston-based nonprofit—Undies For Everyone–an organization whose main mission is to collect and distribute underwear for low income students in Houston and Dallas.
Grispo hear that new, clean underwear was needed in the aftermath of Hurricane Harvey. The yoga instructor and mom of two reached out to friends, family, yoga students, and fellow sport team parents asking them to donate packages of new underwear.
"A lot of people have donated clothing which is wonderful, but clean underwear is not something most of us think about," she said.
To date, Grispo has collected about 30 packages or 300 pairs of new underwear.
"There is a huge need for underwear, especially for those individuals who do not have access to laundry facilities," she added.
Members of Plainfield's Freedom Elementary Fifth Grade Student Council have been packing and organizing school supplies destined for the Houston area.
"We always do a school supply collection at the beginning of the year and donate the extras to a local nonprofit," Freedom Elementary's social worker, Shirley Morris said.
After Morris was able to secure the donation of a semi-truck to bring the supplies to the YMCA of Greater Houston, she said, "We decided to collect as much as we could."
Now other schools and restaurants have joined in the effort, she added.
Morris said, "The YMCA in Houston had just given out school supplies to 29 schools districts before Hurricane Harvey struck. All the school supplies the kids received are gone."
To best assist Naperville residents on how to give responsibly, a community meeting was held that included Mayor Steve Chirico, Naperville Emergency Management Coordinator Dan Nelson, and Naperville resident and disaster relief volunteer Susan Koranda.
The City of Naperville website outlines the best ways to help Hurricane Harvey victims and also how to avoid scams. It note "there has been a tremendous desire by Naperville residents to support the victims of Hurricane Harvey."
A Hurricane Harvey Relief Effort was also launched in neighboring Aurora.
The City is collecting water, baby products, feminine hygiene products, and socks. Donations can be dropped off at Aurora's Central Garage, 757 N. Broadway AND will be accepted Monday through Friday from 7 a.m. to 10 p.m. throughout the month of September.
National Organizations
American Red Cross
www.redcross.org/donate/hurricane-harvey
Text HARVEY to 90999 to donate $10.
Salvation Army
www.salvationarmyusa.org
1-800-SAL-ARMY (1-800-725-2769)
Text STORM to 51555
AmeriCares www.americares.org
Takes medicine and supplies to survivors
Catholic Charities www.catholiccharities.org
Provides food, clothing, shelter, and support services to those from all religious background
— Regional hurricane efforts helping others 'who are hurting'–