Weisner says Aurora Election Commission should be abolished after election delays
By Jack McCarthy Chronicle Media —

March 17, 2016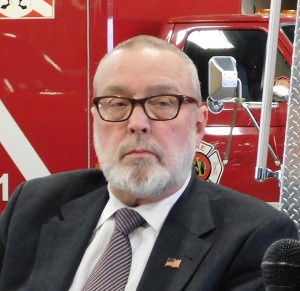 Aurora Mayor Tom Weisner called for the Aurora Election Commission to be dissolved after the agency failed to post results from Tuesday's primary election in a timely manner.
A delay in announcing totals from the city's 73 precincts was the latest in a series of issues with the independent agency, established in 1934 by Aurora voters to supervise local elections.
"The Aurora Election Commission's abysmal failure Tuesday night to properly provide online the election results from within its jurisdiction to the public is but the most recent example of the general incompetence of the Commission Board, as well as the staff and the Board attorney, who are collectively and individually wasting local tax dollars," Weisner said in a statement.
Results were not posted on the commissions's website (www.auroravotes.org) until after 9 a.m. on Wednesday, 14 hours after polls had closed and nine hours after the Kane County Clerk's office announced final results for county and local races and referendums outside of Aurora.
Weisner called for responsibilities to shift to the County Clerk.
"A satellite Aurora office of the Kane County Clerk could provide more efficient election services to our city," Weisner said. "That same satellite office could also provide marriage licenses, passports, birth and death certificates, all at a cost less than Aurora taxpayers are forced to pay to the Commission currently."
The agency's executive director, Linda M. Fechner, was not available for comment and attempts by other media outlets to reach her were reportedly unsuccessful.
Weisner called for citywide referendum in November to abolish the commission. The Aurora City Council approved a referendum in 2010 but the commission declined to place it on the ballot, saying referendums can be made only through voter petitions.
According to the Aurora Election Commission web site, the agency is responsible for election operations within the city limits in Kane, Kendall and Will counties. It is governed by a three-member bipartisan panel appointed by the Chief Judge of the 16th Circuit Court to three-year terms.
Current members include chairman Leah Anderson, vice chairman Michael McCoy and secretary Lillian Perry.
Weisner outlined a series of incidents involving the commission, calling it "a substantial track record of mismanagement."
He said the commission failed to perform regular audits, supply supporting documents for agendas in a timely fashion and allegedly paid $25,000 to family members of the executive director and attorney representing the commission.
Kane County residents of Aurora support the commission through taxes paid to both the county and city. The agency also serves Aurora residents in Will and Kendall, but those counties make no contributions to cover costs.
DuPage County residents of Aurora receive all election services from the DuPage County Election Commission.
"In one way or another the [Aurora] Election Commission is a bad deal for everybody," Weisner said.