The Growing Place firmly rooted in western suburbs
By Erika Wurst For Chronicle Media —

June 3, 2016
Without roots, it's impossible for a plant to flourish.
Without roots, Emma Glatzhofer's once bustling Naperville business would have shut its doors for good decades ago.
At The Growing Place in Aurora and Naperville, roots are the most important part of the family run business, which has operated for more than 80 years in the area.
From the fresh herbs to the perennials, annuals and everything in between, the business' most recent owners are working hard to keep Emma Glatzhofer's dream of providing the freshest, highest quality plants in the area alive.
In 1936 Emma and Fritz Glatzhofer opened what was then called Emma's Perennials at 25w471 Plank Road in Naperville. The pair sold field-grown perennials and quickly earned recognition for their commitment to their trade.
Plants were propagated and planted directly into the ground. When the plants were ready, Emma and Fritz would dig them up and wrap them in newspaper for customers to take home.
The couple remained busy with business until the early 1970s when things slowed and Emma's Perennials shut its doors.
Several family members had tried to revive the once busy business, but had failed. In 1973, Emma's nephew, Rich Massat and his wife Carol, jumped in and decided to breathe life back into the now failing empire.
"When we took it over it was just to learn the business and get it back on its feet again," Carol Massat said. "We didn't have many customers at that point."
But, the couple's persistence paid off. They hired dedicated employees, threw themselves into the landscaping abyss and learned all they could about continuing Emma's mission.
"The best way to learn is to do," Carol Massat said. "Over the years, that's how we learned. We kept up with trends and reports in the industry."
Business picked up, and by 1976 customers at Emma's Perennials were regulars again. But, this time they had a question. Who was Emma, and where was she?
"Emma wasn't there anymore, so we decided to change the name to The Growing Place," Carol Massat said.
And, grow they did.
"In 1985, we realized we were in trouble," Carol Massat said. "People were parking two blocks down the street on both sides, and it started causing traffic issues."
So, the couple figured out a way to accommodate more parking at the Naperville business.
Then came the need for more property. In 1989, the couple purchased 18 acres on Montgomery Road in Aurora to continue growing most of their own products and keep up with demand.
"We knew we would have a good handle on things we were growing ourselves," Carol Massat said.
These days, in addition to providing their plants, the Massats provide education, which is just as important as any purchase, Carol Massat said.
"Education is huge for us. If people don't know how to plant correctly, they're not going to have success," she said. "We really work on having things that are hearty to the area and teach people how to plant and maintain."
The Learning Gardens, which hold more than 800 varieties of labeled plants, are great education for adults. Kids can also get schooled on all things perennial by taking a walk through The Growing Place's miniature garden, enjoying the sandboxes, and strolling the grounds.
"We do a lot of fun things, and over the years, people have grown up with us," Carol Massat said, noting that she has served some customers for three decades now.
The couple has also brought aboard their son Micheal, 33, and daughter Becca, 38, to help run the business.
Michael Massat said it's been rewarding to help keep Emma's mission alive, and to work side-by-side with his family.
"I really enjoy the work in helping people with their landscaping and picking out plants for their yards," Michael Massat said. "It's fun to work with my sister and mother and father. Not many people get to do that. Not many people would get along."
For Becca Massat, who was working out of state before she decided to pack up and move home to help her family, the work is also a labor of love.
"I missed my family and wanted to come back and help them and the business grow," she said. "It's fun working here and we want to continue our parents' mission."
A mission that began 80 years ago, in a small shop called Emma's Perennials.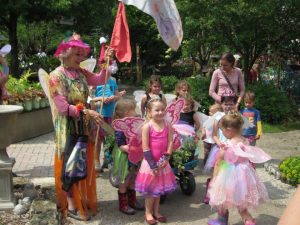 UPCOMING EVENT:
All fairies, gnomes and miniature garden enthusiasts are invited to The Growing Place Garden Center in Naperville and Aurora's magical miniature party.
The weekend starts at the Naperville store, 25w471 Plank Rd., from 9 a.m. to 5 p.m. on Saturday, June 4, and moves to the Aurora store, 2000 Montgomery Rd., from 11 a.m. to 5 p.m. on Sunday, June 5.
Visit the Fairy Boutique to make a fairy skirt ($3), pick out fairy wings and make a wand ($3) or stop by the Gnome Haberdashery to get your gnome hat and beard (Free).
Face painting at the Fairy Beauty Parlor from noon to 3 p.m. Enjoy tiny treats in the Fairy Tearoom, or go on a fairy and gnome hunt. Staff will be available all day to help budding mini garden enthusiasts make their very own magical mini garden to take home.
For more information visit www.thegrowingplace.com
— The Growing Place firmly rooted in western suburbs —