Kendall County news briefs
May 1, 2019
KENDALL COUNTY
 Kifowit recognizes American Legion on 100th anniversary 
U.S. Marine Corps veteran and State Rep. Stephanie Kifowit, D-Oswego,  recently introduced legislation honoring the legacy of the American Legion."
"The American Legion has made great contributions to the welfare of military Veterans, their families and communities over the past 100 years," said Kifowit. "As we celebrate the anniversary of its founding, my legislation honors Legionnaire's service to Veterans and their families during times of need."
Kifowit, introduced House Resolution 310 congratulating the American Legion.
The American Legion was founded in March 1919 by U.S. World War I military personnel stationed in Paris, France and now has more than two million members. Legion members donate more than 3.7 million hours of volunteer service annually, over 80,000 pints of blood to collection centers nationwide and over $4 million in college scholarships.
The Legion marks its centennial anniversary with a 15-month celebration that began with its national convention in August 2018 and culminates on Veterans Day 2019.
"With over 700 local posts across Illinois, the American Legion has the ability to impact local Veterans and their families," said Michael M. Carder, Commander of The American Legion Department of Illinois. "Veterans serving Veterans truly is our mission."
Sheriff's Office does K-9 safety sweep school
On April 25, the Kendall County Sheriff's Office, along with administrators at Newark High School, conducted a building and grounds safety sweep utilizing the Sheriff's Office K-9 teams looking for any contraband brought onto school property.
The safety sweep was completed and no contraband was found.
The safety sweep was pre-arranged with the Newark High School administration as a preventative measure and was not a response to any known issue or threat.
 Boulder Hill Neighborhood Watch meeting set 
Mark your calendars for the next Boulder Hill Neighborhood Watch meeting which will take place on Wednesday, May 8, at 7 p.m. in the Sanctuary at the Neighborhood Church of the Brethren located at 155 Boulder Hill Pass in Montgomery.
Sheriff Dwight Baird will be present at the meeting and would love to see as many community members as possible come out and work together toward the betterment of the community.
MONTGOMERY
 Village launches redesigned website
The Village of Montgomery launched a new, improved website on Monday, April 22. The revamped website offers a clean design with a user-friendly layout, bold colors, new images and completely new navigational tools.
Village President Matt Brolley explained, "Our new website is designed to help residents, visitors and businesses quickly locate information and access services online, and will also provide an enhanced experience for mobile users."
Along with the expanded content, the website continues to offer electronic payment for water bills and the popular request tracker module that allows residents to report a concern, ask questions or request a Village service. Users can also sign up to receive notifications of emergency alerts, agendas, news and more.
"This website will serve as the center of communications for the Village of Montgomery and will allow people to do business online and find the information they need 24/7," Brolley concluded.
Village announces infrastructure road program
Starting in mid-April, the Village will begin a resurfacing project on various roads throughout the village. Construction may affect your roadway, a roadway adjacent to your property or a road you may travel.
The project will consist of pavement removal, pavement patching, repair of deteriorated sidewalk, replacement of sidewalk ramps to meet current ADA requirements, curb and gutter removal and replacement, new storm sewer installation, manhole and inlet adjustments,  new asphalt pavement, and pavement markings.
The village will also be completing miscellaneous sidewalk removal and replacement and curb and gutter removal and replacement throughout the Village.  It is anticipated that the project will be substantially complete by the end of September.
Throughout the duration of the project, lane closures and minor delays should be expected, however no major roadway closures are anticipated.  To prepare for the upcoming work, representatives from the Village and Engineering Enterprises, Inc. will be onsite to identify removal limits for various elements of construction.
During construction there will be times when parking on the roadway will not be allowed for curb and gutter replacement, sidewalk replacement and pavement resurfacing operations. During curb and gutter and sidewalk replacement, No Parking signs will be posted directly in front of the area where parking is not allowed.
During pavement resurfacing operations which include the start of pavement milling through the final pavement paving, No Parking signs will be posted for the entire roadway. If a car is parked in the roadway where No Parking signs are posted, it will be towed at the vehicle owner's expense.
During construction, if you have any questions or would like to meet with a project representative onsite, contact Jake Seger of Engineering Enterprises, Inc. at 630-806-6213; additionally, or call the village of Montgomery Department of Public Works at 630-896-9241.
OSWEGO
Preservation Commission offers historic walking tours
May is National Historic Preservation Month. Join the Historic Preservation Commission on June 1 from 10 a.m. to 1 p.m. for an educational walking tour of the village's historic stone houses to celebrate historic preservation in Oswego.
Many of Oswego's stone houses are some of the oldest structures found in the village, most of them built between the 1840s and the 1860s, and each with its own unique architectural style and history.
The Historic Stone House Walking Tour will provide a unique opportunity to learn about these historic structures through a brief video screening at the Little White School Museum followed by a guided walking tour of five nearby stone houses and including opportunities to enter a few of the homes and listen to stories and lessons from the property owners themselves.
This tour is perfect for Oswego residents that currently live in historic homes and are interested in preservation and restoration, history and architecture enthusiasts, and preservation students and professionals.
This event is free but registration is required and space is very limited.
Register at https://www.eventbrite.com/e/historic-stone-house-walking-tour-tickets-60075843465 or visit the Oswego Village website.
Sign-up starts for community garage sale
This year in Oswego, it's even it's even easier to tidy up and sell the things you own that no longer spark joy with online and in-person registration for the Oswego Community Garage Sale.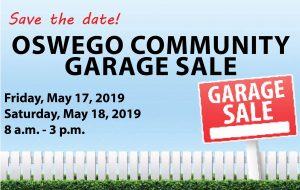 The Oswego Community Garage Sale will be held Friday and Saturday, May 17 and 18, from 8 a.m. to 3 p.m., and it's a great opportunity to clean out basements and attics in an eco-friendly way by reusing and recycling unused items.
This year, the village of Oswego is offering registration online and in person.
The cost to participate is $7, to help cover the cost of advertising the sale. Those who register will get their sales advertised on the village of Oswego's website as well as on GoOswego.org, social media, and in a full-page ad in the Oswego Ledger on Thursday, May 16.
To register online, fill out the form at https://forms.gle/vquNmDXQGtXqpeik7. Then click the link to pay your $7 registration fee using a credit or debit card.
To register in person, visit Oswego Village Hall, 100 Parkers Mill, during regular business hours Monday through Friday, 8 a.m. to 5 p.m., to complete the paper registration form and pay with cash, check, or credit or debit card.
Registration is open now until 5 p.m. on Monday, May 6.
For more information, contact Community Engagement Coordinator Jenette Sturges at 630-551-2392 or jsturges@oswegoil.org.
Wine on the Fox traffic alert
The Oswego Police Department is advising the public to expect increased traffic congestion and delays Saturday, May 4 and Sunday, May 5, due to Wine on the Fox activities taking place this year at Oswego Village Hall.
Motorists should expect delays while travelling on U.S. Route 34, U.S. Route 31 and Washington Street on Saturday between 11 a.m. and 8 p.m. and on Sunday between noon and 6 p.m. Motorists may want to consider alternate routes around these areas if they are not coming in for the event.
Parking for this event will be available at a grass lot west of Village Hall with a temporary entrance/exit off Washington Street. This can be accessed from Route 34 to Washington Street or from Mill Road to Washington Street.
YORKVILLE
D115 teacher Leslie Kressin honored at YEF event
Yorkville Educational Foundation (YEF) recently held its annual Fostering our Future Awards — a community-wide celebration in recognition of the exemplary achievements by District 115's employees and supporters.
The April 17 event, held at the Kendall County Fairgrounds, drew more than 200 people including community members, business leaders, alumni, donors, district employees, and parents.
The Foundation presented awards in eight categories, including the prestigious Golden Fox Award, which honors the District 115 employee of the year.
This year, the panel of judges selected Leslie Kressin, third-grade teacher at Circle Center Grade School, for this top honor. Kressin also received the Educator of the Year (Grades EC-6) award. "Leslie's impressive nomination, which included submissions by her colleagues and parents of her students, had a significant impact on the judges," said YEF President Alicia Lingane. "The innovation she brings into the classroom, the ways in which she inspires her colleagues, and the passion for education that she fosters in her students distinguished her as a positive role model for all employees."
Also receiving top awards at the event were: Stephanie Prentice, Circle Center Grade School third-grade teacher, Rookie of the Year Award; Mickey Nauman, Yorkville High School business teacher, Educator of the Year (Grades 7-12) Award; Robin Owens, Grande Reserve Elementary School library paraprofessional, Non-Certified Employee of the Year Award; Josh Slavin, Timeout 4 Kids founder, Partner of the Year Award; Sherri Farley, Yorkville Area Chamber of Commerce executive director, and Melissa Wojowski, Yorkville High School Field Experience Program coordinator, Project of the Year Award; and Shawn Harris, district parent, Spirit of the Fox Award.
Award details and photos of the event can be viewed on the foundation website at www.yef115.org.