Sugar and spice to be found on Oswego Chocolate Walk
By Erika Wurst for Chronicle Media —

February 8, 2018
Chocolate chili, chocolate martinis, chocolate-covered marshmallows, fondue and finely paired wines.
This is what the Oswego Chocolate Walk for Charity is all about.
The first event, with funds going to support Celebrate Difference, will be held on Saturday, Feb. 10 from 11 to 3 p.m. in downtown Oswego.
More than 20 participating businesses will open up shop and be offering chocolate-themed treats of every kind.
Dark chocolate espresso budino at one place, a chocolate-scented bath bomb at another. Donuts, hot chocolate, drenched pretzels, and more.
"We had a very positive response businesses wanting to participate. Everybody was very willing to help out and really wants to see the organization raise funds," said Rebecca Christiansen, founder of Celebrate Differences.
The non-profit organization provides free local programing for infants, children and adults with disabilities — think pool parties in the summer, holiday get-togethers, a special needs prom and additional support for siblings and parents.
Most recently, Celebrate Differences purchased the Pinch of Happiness Spice Shop in downtown Oswego and offers in-house job skills training and employment for teens and adults with disabilities.
Local interest in the Celebrate Differences programs has been increasing lately, and the Chocolate Walk is one way they're helping to keep their doors open, Christiansen said.
"With so many organizations that receive government funding not getting that money now, they are closing their doors," she said. "We're getting a lot more referrals now. With the way the economy is, everyone is out looking for the same grants and funding. We have to think outside the box on how to raise money if we want to be successful."
So, with a team of more than 20 supporters, Christiansen conjured up the idea of an Annual Oswego Chocolate Walk event — not only as a way to raise money, but as a way to get people to visit downtown.
After purchasing the spice shop, Celebrate Differences became part of the Oswego Downtown Business Association. Christiansen said she often thinks about ways to drum-up downtown business, especially during the winter months.
The Chocolate Walk is the perfect event for couples and friends looking for an afternoon out, just in time for Valentine's Day, she said.
Participants are encouraged to buy their tickets ahead of time, as wooden treat boxes are being handmade and provided as gifts by A Lady and Her Tools, a downtown business.
Don't miss the chance to meet celebrity Chef Judson Allen, a finalist on the Food Network Star, Season 8. He will be on site at a Pinch of Happiness signing his new book, The Spice Diet.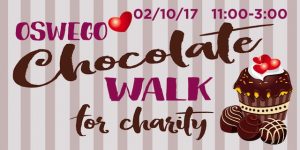 WHERE TO GO FOR CHOCOLATE WALK
A Pinch of Happiness Spice Shop
Aroma Roots Natural Bath & Body
Velvet Grace
Fox Valley Winery
Forever After Finds
Floral Expressions
Page's Popcorn & Favors
Kimberly Ann Home Decorating Boutique
The Village Grind
Bella-gia Boutique
Hudson Design House
My Sisters Lil Donut Shoppe
LIL EMM'S Children's Boutique
Stonehouse Market
Prairie Stitches Quilt Shoppe
Oswego Public Library District
The Garden Faire
Studio 60 Art Center
A Lady and Her Tools
Tickets are $15/person. $20/ admission and a raffle ticket.
Raffle prize is a gift basket worth more than $500.
To purchase tickets, visit Celebrate Differences
— Sugar and spice to be found on Oswego Chocolate Walk  —