DuPage County news briefs
Chronicle Media —

February 24, 2016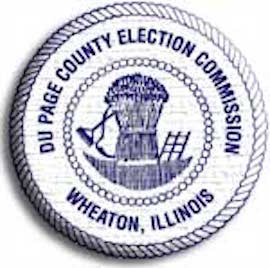 Early primary voting to begin
The DuPage County Election Commission anticipates that early voting ballots will be available on or about Feb. 17, by which time challenges to a candidate's placement on the March 15 primary ballot should be determined and the official ballot and voting equipment prepared. In the interim, any voters who arrive at the Election Commission office will be provided with an application to vote by mail.
Early voting and grace period registration will be offered only at the office of the DuPage County Election Commission, 421 N. County Farm Road, Wheaton, from 8 a.m.-4:30 p.m. Monday through Friday and Saturday, and from 9 a.m.-1 p.m. through Feb. 27.
Starting Feb. 29, the early voting program will expand to sites throughout the county.
Visit https://www.dupageco.org/Election/Voting/earlyvoting/ for a complete list of early voting sites and schedules.
Election workers verify the voter's registration status through a central database at the DuPage County Election Commission.
Once validated, the database is updated (preventing the voter from voting at another location). The voter is allowed to cast a ballot using an ATM-like touch screen device. The vote will be tabulated once the polls close on Election Day.
Once an early vote has been cast, the vote is final. The voter may not go to the polling place on Election Day to change a vote.
For the March 15, 2016, General Primary Election early voting expands on Monday, Feb. 29, through Monday, March 14; times are 8:30 a.m.-7:30 p.m. Monday-Friday; 9 a.m.-5 p.m. Saturday and 10 a.m.-4 p.m. Sunday at the following locations:
DuPage County Election Commission, 421 N. County Farm Road, Wheaton,
Naperville Municipal Center, 400 S. Eagle St., Naperville,
Olive Trees Condominiums¸ 200 E. Bailey Road, Naperville,
Stratford Square Mall, 152 Stratford Square, Bloomingdale,
Fox Valley Mall, 195 Fox Valley Center Dr., Aurora, and
Yorktown Center, 203 Yorktown Mall Dr., Lombard.
Temporary Locations will be open 8:30 a.m.-7:30 p.m. Monday-Friday and 9 a.m.-5 p.m. Saturday from Feb. 29 to March 12:
Addison Township Office, 401 N. Addison Road, Addison,
Bartlett Community Center, 700 S. Bartlett Road, Bartlett,
Downers Grove Village Hall, 801 Burlington Ave., Downers Grove,
Elmhurst City Hall, 209 N. York St., Elmhurst, and
Glen Ellyn Civic Center, 535 Duane St., Glen Ellyn.
Elmhurst
Fair is designed to find workers, volunteers
Community organizations and local businesses are invited to be part of the second annual Youth Job/Volunteer Fair, sponsored by the Elmhurst Commission on Youth and its partnering agencies – District 205, the Elmhurst Park District, Elmhurst Public Library, YMCA, Elmhurst Junior Women's Club and the Kiwanis of Elmhurst.
The fair will be held 3-6 p.m. March 23 in the York High School Commons, 355 E. St. Charles Road.
Register your business or organization by March 2 at http://elmhurstpubliclibrary.org/teen-job-fair-registration/
Vendors are encouraged to participate for these reasons:
Increase public support and visibility for your organization/business in the community,
Communicate your organization's mission,
Meet potential volunteers/teen workers face-to-face,
Display job and volunteer opportunities,
Build connections with other non-profits and businesses,
Network and make new contacts,
Expand your number of volunteers/teen worker contact list, and
Demonstrate your support for the youth of our community.e
Future is bright for agriculture students
Are you or do you know a college student pondering a future career?
Consider agriculture.
"It's a wonderful time to be an agriculture student because of the tremendous career opportunities and growth of the agriculture market," Rob Rhykerd, Ph.D., chair of the Department of Agriculture at Illinois State University, recently told Illinois Farm Bureau Partners, a magazine for Illinois Farm Bureau members. "At ISU, we have nearly a 100 percent placement rate for our ag students if they're willing to relocate. The growing export market and global demand for food and ag products as well as demand for ethanol is spurring great growth in the ag sector, and our students are prepared and excited to add their talents to the industry."
According to the magazine, a report from the U.S. Department of Agriculture and Purdue University confirms what Rhykerd sees. The 2010 study estimated that through 2015, there would be about 54,400 openings each year for agriculture and natural resource jobs and about 29,300 college graduates to fill them.
In addition to Illinois State in Normal, other statewide institutions with agriculture programs include University of Illinois and Parkland College in Champaign; Western Illinois University in Macomb and Illinois Central College in East Peoria, for a total of 31.
State museum may reopen
After more than four months closed to the public, the Illinois State Museum appears poised to reopen, although things wouldn't be quite the same. Illinois Issues is reporting.
The state agency which controls the museum system recently announced tentative plans to reopen the flagship facility in Springfield and three of its five satellites, pending legislative approval.
Opened in 1877, the Illinois State Museum system includes the namesake Illinois State Museum in Springfield, a Research and Collections Center in Springfield, Dickson Mounds museum near Lewistown, and art galleries in Lockport, Chicago and Rend Lake. The museum system is under the Illinois Department of Natural Resources.
Under the reopening plan, the museum would begin charging an admission fee and close the branches in Chicago and Rend Lake. The museum's accounting and management structures would also be reorganized.
The system officially closed to the public on Oct. 1, 2015, at the direction of Gov. Bruce Rauner, who framed the closure as a cost-cutting move. Rauner planned to fire many of the system's employees, but a lawsuit from AFSCME prevented unionized workers from being laid off. Those workers continued working behind locked doors during the public closure. Several non-union managers retired or found other jobs before the layoffs were to occur.
Shortly after Rauner announced plans to close the museum in June 2015, Sen. Andy Manar, D-Bunker Hill, sponsored Senate Bill 317 to keep the museum open. The bill passed the Senate in August and passed the House in November. On Feb. 5, Rauner issued an amendatory veto of the bill, calling for implementation of a fee system and partnerships with other public and private entities to help fund the museum.
"While the State is in the midst of a crisis caused by decades of fiscal mismanagement, as long as this bill fails to offer any plan to help the museum become self-supporting, it is just an empty and broken promise to the taxpayers of Illinois," Rauner wrote in his veto message to the General Assembly.
The bill now goes back to the legislature for approval or an override vote.
— DuPage County news briefs —