McCullough family honored as part of 100-year McHenry fair celebration
Adela Crandell Durkee For Chronicle Media —

August 23, 2017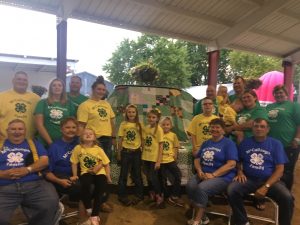 4-H may be celebrating its 100th birthday this year, but the family of Jeannetta and Maynard McCullough is proud to say they contributed 351 years of 4-H membership.
On Aug. 5, 4-H recognized the McCullough family at the McHenry County Fair. The family received the Illinois Spirit Award on Aug. 14 at the State Fair.
Jeannette and Maynard McCullough, 4-H members since their youth, produced children, grandchildren, and now, great-grandchildren involved in the youth organization.
"4-H is the largest youth organization on the planet," said Ed Becker, local club president.
The McCullough family contributed 82 members. Jeannette's and Maynard's
progeny went on to become Dairy farmers, health care professionals (nurses, dental hygienist), agri-business professionals, teachers, construction workers, and construction owners.
According to the 4-H website and history page: "The seed of the 4-H idea of practical and "hands-on" learning came from the desire to make public school education more connected to country life. Early programs tied both public and  private resources together for the purpose of helping rural youth."
A. B. Graham started one such youth program in Clark County, Ohio in January, 1902; and, O.J. Kern started a similar club one month later, in February, 1902, in Winnebago County, Illinois. Many of these early clubs — which were project oriented — were called "Tomato Clubs" or "Corn Clubs" or "Pig Clubs" and "Canning Clubs".
Today, 4-H appeals to the youth in rural, urban and suburban communities in every state across the nation. 4-Hers tackle the nation's top issues, from global food security, climate change and sustainable energy to childhood obesity and food safety. 4-H out-of-school programming, in-school enrichment programs, clubs and camps also offer a wide variety of science, engineering, technology and applied math educational opportunities — from agricultural and animal sciences to rocketry, robotics, environmental protection and computer science — to improve the nation's ability to compete in key scientific fields and take on the leading challenges of the 21st century.
In Illinois, the 4-H Program is the Youth Development Program sponsored by the University of Illinois Extension. The four "H's" provide the focus for the 4-H Program, focusing on developing youth's head, heart, hands and health. 4-H provides a "learning by doing" philosophy to help youth develop their whole being.
For more than 80 years, 4-H has been providing "hands-on" learning experiences to youth in McHenry County. 4-H projects skills such as decision making, communicating with others, understanding why community involvement is important, and an appreciation of diversity transfer to career development and citizenship. Leadership skills are developed through 4-H experiences such as serving on planning committees, becoming an officer, attending regional, state and national events.
The McCullough family remains centered in McHenry, Boone, Winnebago, and parts of southern Wisconsin. Trevor Olson, the grandson of Jeannetta and Maynard, and a 4-H leader, explained how the family applied for the award, three years ago.
"I saw a blurb in a monthly newsletter," Olson said. "The award requires a minimum of three generations, with at least 100 years of 4-H experience."
Realizing his family more than qualified, Olson filled out the application, which required a list of each member's club involvements and an family biography. The award goes to just one family each year. The club Olson leads has participants in dairy, sheep, swine, horses, poultry, rabbits, woodworking, jellies/jams, vegetable production. They have about twenty members.
After the award presentation Aug. 12, the family was part of the Aug. 15 Fair Culture day where they met with Gov. Bruce Rauner.
"4-H has helped me set goals and achieve goals." Olson explained. I learned how to work and get along with others. Grandma Jeannetta instilled these same work ethics her children and grandchildren."
Adults often express that they can always tell a 4-H member, because they are the youth that are capable of speaking in front of an audience, they have strong organizational skills, their work ethic is positive, and they are open-minded regarding others. A child unfamiliar with 4-H asked his grandmother what it was all about. "4-H is one of the reasons I believe I can do anything I want to, if I set my mind to it and I work hard."
To become a member or a leader, call the local office at (815) 338-3737.
–Family honored as part of 100-year celebration–